Australia's prime minister to face internal dissent as parliament resumes
Comments
By Reuters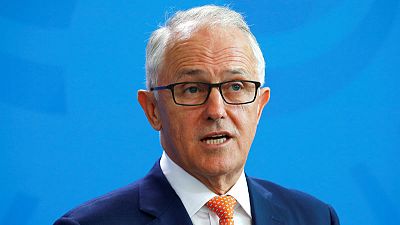 -
By Colin Packham
SYDNEY (Reuters) – Australia's Prime Minister Malcolm Turnbull will this week be forced to confront internal divisions as the government convenes for the first time since it suffered a series of electoral defeats that threatens its prospect for re-election.
Turnbull will front a meeting of the centre-right coalition on Tuesday as parliament resumes after a six-week recess, a conference that comes amid renewed pressure on the prime minister.
"The jitters will be creeping into the party room. There is the doubt that when polled, Australians don't really believe he is the man for the job," said Haydon Manning, a political science professor at Flinders University in the state of South Australia.
Turnbull has been under sustained pressure amid a slump in opinion polls, stoking speculation of a leadership change in a country that has seen five different prime ministers since 2010.
Australia's conservative government late last month failed to win any of the five by-elections held across the country, defeats widely seen as an indication Turnbull faces an uphill task to be re-elected at a national poll due by May 2019.
Exit polls showed Turnbull's government had lost support with its planned corporate tax cuts.
Following the lead of the United States, Australia's centre-right government has proposed to cut the corporate tax rate from 30 percent to 25 percent, in a bid to boost the economy less than a year away from the next election.
But with stagnant wage growth and a public inquiry exposing alleged misconduct in the financial sector, the policy is deeply unpopular.
Turnbull has said his coalition will seek to win favour with the country's senate, where the government does not enjoy a majority, for the legislation – though the government's long-term commitment to the policy remains uncertain.
Turnbull will also head into the next session of parliament with uncertainty shrouding the government's energy policy.
The government had hoped to win approval from Australia's state governments for a plan to end more than a decade of climate and energy wars and spur investment in new power supply.
But at a meeting last week, several states withheld support, setting the scene for a frosty meeting of the government on Tuesday.
Pro-coal former Prime Minister Tony Abbott and rural-party Nationals members in Turnbull's coalition oppose the plan, which is likely to dominate agenda of the meeting.
Australia's Treasurer Scott Morrison on Saturday acknowledged tensions within the room but insisted the coalition would provide Turnbull's energy plan.
"Of course there will be discussions, but it will have strong support because it is the right plan," Morrison told reporters in Adelaide.
(Reporting by Colin Packham; Editing by Alistair Bell)