U.S. tells China's HNA to sell stake in NYC building near Trump Tower - WSJ
Comments
By Reuters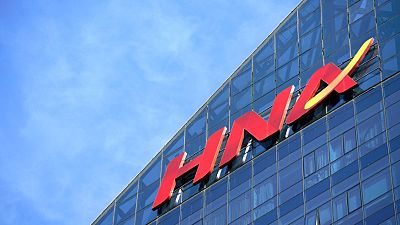 -
HONGKONG (Reuters) – The U.S. government has ordered Chinese conglomerate HNA Group Co Ltd [HNAIRC.UL] to sell its majority stake in a Manhattan building whose tenants include a police precinct tasked with protecting Trump Tower, the Wall Street Journal reported on Friday.
The Committee on Foreign Investment in the United States (CFIUS), which reviews foreign investments to weigh whether they present national security concerns, informed HNA several months ago that it had to divest itself of its holding in the building, the report https://www.wsj.com/articles/u-s-orders-chinese-company-to-sell-manhattan-building-near-trump-tower-1533917797 said, citing people familiar with the matter.
CFIUS however did not explain to the aviation-to-financial services conglomerate why it had to sell the property, according to the report.
At the behest of CFIUS, HNA set up a blind trust and transferred its stake in the building to the trust that has its own board of directors, which have a fiduciary duty to the trust, not to HNA, the report said.
HNA is now in talks with potential buyers interested in the building to abide by the CFIUS order, though it was not given a deadline to sell, the report added.
CFIUS is an interagency U.S. government body whose chair is the Secretary of the U.S. Treasury Department. Asked on Saturday about the Journal report, a Treasury Department spokesman declined to comment, saying the department does not comment on specific CFIUS cases.
An HNA spokesman, asked by Reuters for comment on Saturday, referred to a statement it gave on Thursday, which said that "there is no seizure or forced sale of 850 Third Avenue underway or pending."
"There are unique facts and circumstances regarding the location of this particular property that did not exist at the time of purchase which have raised certain concerns, and HNA Group is taking measured steps to address them," he said.
The group in 2016 acquired a 90 percent stake in the building, valued at $463 million, months before Donald Trump was elected U.S. president.
The building, located a few blocks from Trump Tower, houses the New York Police Department's 17th precinct, whose duties include security for Trump Tower, said the report. It is among a handful of investments HNA made on a $50 billion (39.16 billion pounds) acquisition spree in recent years. Trump maintains a residence in Trump Tower.
The CFIUS order also comes as the cash-strapped Chinese group has been shedding non-core assets such as real estate to slash the massive debt it accumulated from its shopping spree.
Earlier this week, HNA sold a 30 percent stake in aircraft lessor Avolon Holdings to Janpan's Orix for $2.2 billion. It also agreed to sell Radisson Holdings Inc to a consortium led by Chinese hospitality group Jin Jiang International Holdings Co.
(Reporting by Julie Zhu and Kane Wu; Additional reporting by Yeganeh Torbati in Washington; Editing by Frances Kerry)