U.N. General Assembly approves Chile's Bachelet as rights chief
Comments
By Reuters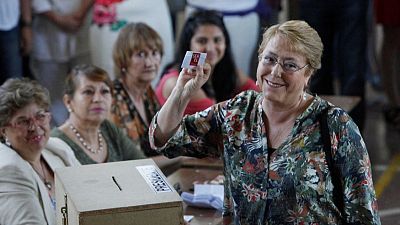 -
By Michelle Nichols
UNITEDNATIONS (Reuters) – The United Nations General Assembly approved on Friday the appointment of former Chilean President Michelle Bachelet as the world body's new human rights chief.
U.N. Secretary-General Antonio Guterres announced the appointment of Bachelet on Wednesday. She will replace Jordan's Zeid Ra'ad al-Hussein, who is stepping down at the end of the month after a four-year term in the Geneva-based job.
Bachelet, who was tortured under the dictatorship of Augusto Pinochet, was the first woman to be president of Chile, one of the region's most developed economies.
A former paediatrician, Bachelet first served as president from 2006 to 2010, and was popular for her government's welfare policies and steady economic growth during her tenure.
Bachelet then led U.N. Women, which supports gender equality and the empowerment of women, between 2010 and 2013. She returned to Chile and served again as president from 2014 to March this year, pushing for a more radical tax-and-spend agenda, as well as for gay marriage and abortion rights in the socially conservative country.
Zeid told reporters in New York earlier this month that he did not seek a second term because he did not believe key world powers, including the United States, China and Russia, would support him.
Zeid has been strongly critical of some of U.S. President Donald Trump's policies and his attacks on the media.
U.S. Ambassador to the United Nations Nikki Haley said in a statement on Wednesday that the U.N. High Commissioner for Human Rights can have a "strong voice" on critical issues.
"The U.N. has failed to adequately address major human rights crises in Iran, North Korea, Democratic Republic of the Congo, and elsewhere, or stop its chronic, disproportionate obsession with Israel. It is up to Ms. Bachelet to speak out against these failures rather than accept the status quo," Haley said.
The United States withdrew in June from the Geneva-based U.N. Human Rights Council, which is separate from the High Commissioner for Human Rights office but works closely with it, over what it called chronic bias against Israel and a lack of reform.
(Reporting by Michelle Nichols; Editing by Frances Kerry)