Peru's new president spurns opposition proposals on referendum
Comments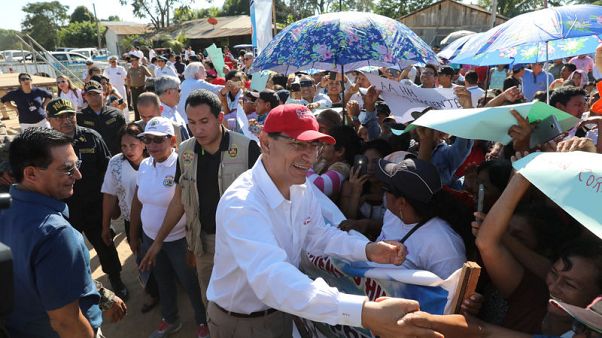 -
By Mitra Taj
PUCALLPA, Peru (Reuters) – Peruvian President Martin Vizcarra has rejected calls to include measures proposed by opposition lawmakers in a national anti-corruption referendum that would bar them from serving consecutive terms in Congress.
His comments, in a Reuters interview on Thursday, underscore the increasingly prickly relationship between Vizcarra's less than five-month-old centrist government and the conservative opposition Popular Force party, which helped topple former President Pedro Pablo Kuczynski after graft and vote-buying allegations.
In addition to a ban on re-election to back-to-back terms in Congress, Vizcarra's proposed referendum would criminalize undeclared contributions to political campaigns, create a second chamber in Congress, and require 50 percent of aspiring senators on party lists to be women.
Those measures are at the heart of the legislation that Vizcarra personally delivered to Congress this week, which could upend politics as usual in the deeply impoverished Andean nation.
In the interview, before he donned indigenous garb and addressed a crowd in the sweltering Amazonian town of Pucallpa, Vizcarra said it was wrong for opposition lawmakers to try to add their own proposals to the already wide-ranging referendum.
"I think it's inappropriate," he said. The opposition's measures allow the death penalty in cases of child sex abuse and ban the government from buying ads in the private media.
"The current Congress has been in power for two years, why didn't they do it then," Vizacarra asked.
Opposition leaders could not be reached for immediate comment, but the dispute could set the stage for a fresh confrontation between the two branches of government just months after Kuczynski's resignation ended a period of prolonged political turmoil that shook markets.
Popular Force promised to let Vizcarra, Kuczynski's former vice president, govern through the rest of Kuczynski's scheduled term in 2021 when he took office in March.
Tensions have risen, however, as Vizcarra has sought to distance himself from a political class widely seen as corrupt, following two years of intrigue surrounding Brazilian builder Odebrecht, which has admitted to paying $29 million (£22.7 million) in bribes to secure contracts in Peru.
Peru's four most recent presidents are now under investigation in connection with Odebrecht, as is the entire Popular Force party – led by twice defeated presidential candidate Keiko Fujimori, the daughter of former authoritarian leader Alberto Fujimori.
Trust in Peru's institutions has sunk to new lows in the past month on a fresh scandal involving influence-peddling allegations against judges, businessmen and lawmakers.
"OH, THIS IS SERIOUS"
Vizcarra's approval rating had also been slipping in opinion polls. But the most recent survey, by local pollster Datum, found support for Vizcarra surged 10 points to 49 percent after he first called for the referendum last month, according to local newspaper Peru21.
"People are saying, 'Oh, this is serious.' And it really is serious," Vizcarra said of his pledge to fight corruption.
"There's a lack of trust. People don't believe in their authorities anymore. One of my goals is to regain that trust," he said.
Without Congress' support, Vizcarra would have to collect hundreds of thousands of signatures to be able to call the referendum.
Vizcarra, who was cheered in Pucallpa as he spotlighted government plans for building a water treatment plant, has made a point of leaving the capital, Lima, to visit Peru's underdeveloped interior at least once a week.
He declined to detail his strategy if Congress does not back the proposed referendum but expressed optimism that it would eventually pass.
Vizcarra said he would support the opposition's efforts to hold a separate referendum on other topics next year but urged Congress to call a vote in this year's regional elections starting in October. "They should let us move forward on that," he said.
In the interview, Vizcarra also discussed upcoming mining projects in Peru, the world's No. 2 copper producer.
(Reporting By Mitra Taj; Editing by Christian Plumb and Tom Brown)
euronews provides breaking news articles from reuters as a service to its readers, but does not edit the articles it publishes. Articles appear on euronews.com for a limited time.