EU wheat sees gains erased by bearish USDA report
Comments
By Reuters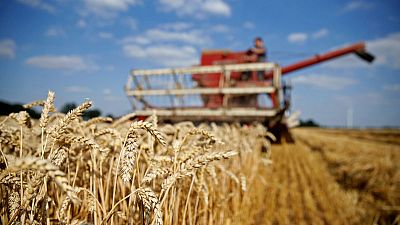 -
LONDON (Reuters) – European wheat saw gains wiped out in late trade, dragged down by broad-based losses in Chicago grain and oilseed markets following the release of a bearish monthly crop report by the U.S. Department of Agriculture.
The market had earlier risen, buoyed by a fall in the euro to a one-year low against the dollar and ongoing concern about weather damage to European crops.
Benchmark December milling wheat <BL2Z8> on Paris-based Euronext settled 0.25 euros lower at 212.75 euros a tonne, well below a session high of 216 euros.
The USDA on Friday raised its outlook for domestic corn and soybean harvests due to good weather during key phases of development.
"For the U.S. market, the report is very bearish for soybeans. We're talking about yields that are above what was imagined," said Gautier Le Molgat of consultancy Agritel.
"The fact the euro has lost 1 percent against the dollar allowed (the) European market to digest the USDA report more calmly than the U.S. market."
The euro sank to its lowest against the greenback in more than a year on Friday as a plunging Turkish lira sparked broad risk aversion, with investors worried about contagion to European banks.
Crop concerns in Europe also helped to underpin prices.
Drought and a heatwave that scorched fields in northern Europe may cut the European Union's wheat export surplus and the bloc will need to consume more of its own grains, experts said on Friday.
In Germany, cash premiums in Hamburg were cut as the market continued to assess the impact of drought damage to the country's harvest.
"The market remains overall well supported by the huge fall in German grains crops and expectations of tight supplies in the next year," one German trader said.
New crop standard bread wheat with 12 percent protein for September delivery in Hamburg was offered for sale down 1 euro at 4 euros over Paris December.
Feed wheat in Germany's South Oldenburg market for September/December was offered for sale well over milling wheat at around 229 euros a tonne, with buyers seeking 228 euros.
German feed makers have already started large import purchases of feed wheat, with about 800,000 tonnes bought from the EU Black Sea region following the poor harvest.
(Reporting by Nigel Hunt in London, Gus Trompiz and Clement Rouget in Paris and Michael Hogan in Hamburg)