Tesla shares fall 5 percent on Wall St scepticism, SEC probe reports
Comments
By Reuters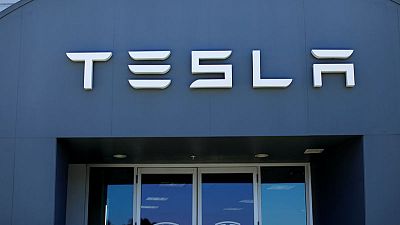 -
NEWYORK (Reuters) – Tesla Inc's <TSLA.O> shares slipped more than 5 percent to a two-day low on Thursday, wiping out all the gains fuelled by Chief Executive Elon Musk's recent tweet announcing a plan to take the company private.
Shares fell early in the day following Wall Street's sceptical response to Musk's idea of going private and a Wall Street Journal report on Wednesday that the U.S. Securities and Exchange Commission was asking Tesla why Musk announced his plans on Twitter and whether his statement was truthful.
The shares fell further on Thursday after Bloomberg reported that the SEC already had been looking at Tesla's public statements, citing two unnamed people it said were familiar with the matter.
Tesla and the SEC declined comment.
Ratings agency Moody's also said on Thursday that Tesla's consideration of going private based on Musk's letter to shareholders published after his tweets on Tuesday was negative for the company's credit outlook.
Wall Street analysts have expressed doubts about the billionaire' s ability to gather enough financial backing to complete a going-private deal.
Tesla shares were trading at $352.01, down about $5 from where they were before Musk's tweet on Tuesday sent the shares soaring to a near one-year high.
(Reporting by Saqib Iqbal Ahmed; editing by Jonathan Oatis and Bill Rigby)