Mexico's economy minister says 'encouraged' to continue NAFTA talks
Comments
By Reuters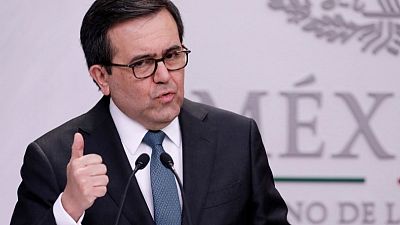 -
By David Lawder
WASHINGTON (Reuters) – Mexico is "encouraged" to keep working with the United States to update the North American Free Trade Agreement (NAFTA), Mexico's Economy Minister Ildefonso Guajardo said after a two-hour meeting with U.S. Trade Representative Robert Lighthizer on Wednesday.
In the Washington meeting, the officials took stock of developments from negotiators working over the weekend, Guajardo told reporters.
"We are definitely encouraged to keep on working, basically covering all the items that we have to cover and we added a list of things that we'll be talking about tomorrow," said Guajardo.
Guajardo, who was accompanied by Mexico's Foreign Minister Luis Videgaray and Mexican President-elect Andres Manuel Lopez Obrador's pick for chief NAFTA negotiator, Jesus Seade, is scheduled to meet again Lighthizer at 10 a.m. on Thursday.
Asked if a deal would be reached on the contentious rules of origin for autos, Guajardo repeated that "nothing is agreed to until everything is agreed to."
The United States has demanded tougher rules of origin, particularly on what percentage of a car needs to be built in the NAFTA region to avoid tariffs.
Guajardo said on Monday that Mexico had put forward a proposal to update NAFTA's rules of origin, and was studying the U.S. position.
(Reporting by David Lawder; Writing by Anthony Esposito; Editing by Richard Chang)