Hedge fund boss Odey says pound could fall further as Brexit deadline looms
Comments
By Reuters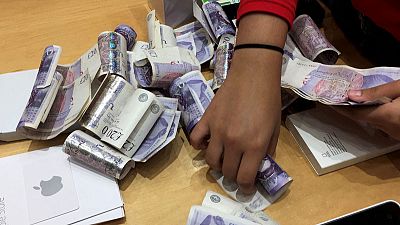 -
By Maiya Keidan
LONDON (Reuters) – Sterling and UK government bonds will fall further in the run-up to Brexit, even after the pound slumped this week to its lowest in almost a year, prominent Brexit-supporting British hedge fund manager Crispin Odey said on Thursday.
While most analysts and investors still expect Britain to secure a trade deal with the EU, Odey said he was continuing to bet against the pound, a stance that could reinforce the view of some that sterling risks a rapid depreciation as the deadline for an agreement approaches
Growing investor nervousness that Britain will exit the EU without an agreement sent sterling on Thursday to its lowest since Aug. 25, 2017. Volatility has surged and traders report investors rushing to protect themselves from further price falls.
Asked by Reuters whether he would bet on the pound falling further, Odey said he would continue to short sterling in the run-up to Brexit, scheduled for March next year.
"I've been short sterling because my sense is that we've got to go on our own. All these 'Remainers', they will feel it's the end of the world when we have to go on our own, but that's when you buy sterling back," he said, referring to supporters of staying in the EU, Britain's biggest trading partner.
Odey said sterling, which traded as low as $1.2842 on Thursday, could fall to $1.21, a further fall of more than 6 percent. The pound has lost more than 10 percent since April and is down almost 15 percent since the Brexit Referendum in June 2016.
He added that while he had covered some short positions on UK government bonds, he still retained a bet against gilts, saying there was "absolutely no value" in the market.
The recent rout in the pound began after the UK trade minister said over the weekend that there was a 60 percent chance of Britain leaving the EU without a deal. Bank of England Governor Mark Carney warned last week that the risk of a no-deal was "uncomfortably high".
Odey Asset Management, traditionally one of the bigger London-based hedge funds, does not publish its assets under management. Its European fund lost 20 percent of its value in 2017, although it has reaped 26 percent in gains so far this year.
(Reporting by Maiya Keidan; Additional reporting by Tommy Wilkes; Editing by David Holmes)