Heat wave pushes environment up the political agenda in Sweden - poll
Comments
By Reuters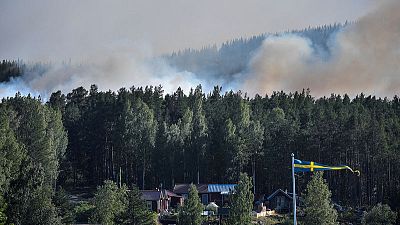 -
STOCKHOLM (Reuters) – This summer's heatwave and wildfires across Sweden have raised the environment to the second most important issue for voters ahead of a general election in September, a poll by Demoskop showed on Thursday.
Temperatures in Sweden were between three and five degrees Celsius higher than normal in July and in most places the highest on record, the Swedish Meteorological and Hydrological Institute said on its website.
Wildfires have affected around 25,000 hectares across the heavily forested country and Sweden this summer received the highest level of support ever offered to any country from other members of the European Union to fight the fires, the Swedish Civil Contingencies Agency said.
The drought has seen ley – or grassland – yields drop to around half of normal levels, while early forecasts for cereals show yields around 30 percent lower than normal, the Swedish Board of Agriculture said.
The Swedish government has earmarked around 1.2 billion Swedish crowns (£103.8 million) for measures this year and next to support farmers hard hit by the drought.
Graphic – European drought: https://tmsnrt.rs/2M4kIvA
The highest number of prospective voters – 16 percent – since the start of the Demoskop polls five years ago named environment the most important issue, the poll commissioned by daily newspaper Expressen showed. Immigration remained the most important issue for voters overall.
The anti-immigration Sweden Democrats are poised to be the big winners in elections on Sept.9, currently polling around 20 percent.
But it will be difficult for them to form a viable government since the mainstream parties which work together in two separate blocs have ruled out a deal with them.
The two parties with the highest environmental profiles, the Green Party which is the junior partner in the centre-left government, and the Centre Party in the centre-right opposition enjoyed 6 percent and 8 percent support respectively in the latest poll, published by Novus/SVT on July 26.
Graphic – Opinion polls: https://tmsnrt.rs/2LmSZFD
(Reporting by Daniel Dickson; Editing by Kirsten Donovan)