Golf - Woods recovers from poor start to grind out a score
Comments
By Reuters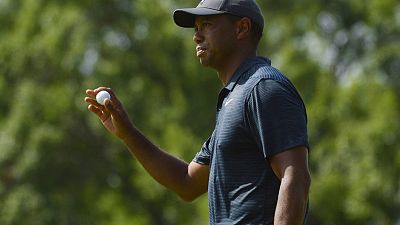 -
By Andrew Both
ST. LOUIS (Reuters) – If Tiger Woods wins the PGA Championship on Sunday he will reflect on the back nine of the first round, which kept him in the tournament when it could have gone either way.
The former world number one made a horrible start, three over par after only two holes as he took time to rub the sleep from his eyes at Bellerive on Thursday.
Even an early change of his sweat-soaked shirt did not help immediately, as his crooked driving more than once had the massive morning gallery ducking and diving to avoid incoming fire.
But a seven-iron to three feet at the par-four 18th, his ninth, led to a birdie and gave the four-times PGA champion a little boost of confidence as he turned at two over.
A poor inward half would have left him in danger of missing the halfway cut, but Woods clawed his way back with two birdies for an even-par 70 that left him five shots behind leader Rickie Fowler.
"I just hung in there. I was able to grind out a score today," Woods said.
"It kept me in the golf tournament. I could have easily gone the other way, being three-over through two. A lot of things could happen, not a lot of them positive."
Woods, 42, had a respite from his driver at the user-friendly first hole, splitting the fairway and gaining a bit of confidence with a birdie.
He played with defending champion Justin Thomas and four-times major winner Rory McIlroy, but the world number two and the Northern Irishman were all but anonymous to most of the sellout but relatively subdued gallery that lined every hole several deep on a languid morning.
It wasn't until the fourth hole that Woods used his driver again, and though he found the left rough he was only a smidgen off the fairway and managed to salvage a par.
After a still morning, a capricious breeze sprang up while Woods and company waited on the seventh tee, and they came to the 610-yard par-five eighth facing a significant headwind.
A perfect drive left Woods 275 yards to the front of the green.
"Isn't he cute when he smiles," commented a female spectator as Woods walked past.
His swing by then was cute too, and the 14-times major champion could hardly have been happier with the three-wood approach shot that he unleashed.
Woods gave it the patented walk, striding after the ball as the gallery whooped and hollered in delight, but the wind knocked the ball down and it ended in the rough, just short of the putting surface.
"I tattooed a three-wood there," he said.
An up-and-down birdie got him back to even par.
(Reporting by Andrew Both, editing by Ed Osmond)