Golf - Fleetwood ready to write about major success
Comments
By Reuters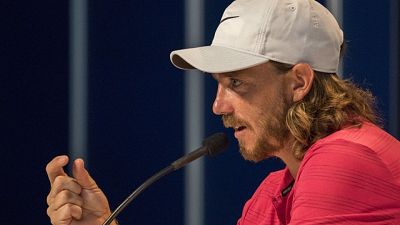 -
By Steve Keating
ST. LOUIS (Reuters) – It wasn't exactly a "Dear Diary" moment from Tommy Fleetwood on Wednesday but it was close as the mop-topped Englishman revealed he keeps a journal where he expresses his deepest thoughts — about golf.
While these pages may not contain the angst-ridden ramblings of a teenager labouring through adolescence they do hold the complicated reflections of a 27-year-old operating in the pressurised world of professional golf where understanding your emotions can make the difference between success and failure.
"There's two reasons for it," explained Fleetwood, before heading out for a final practice round for the PGA Championship.
"Partly, I'm not like — I'm not a great communicator of my feelings anyway in general, so it helps if I write it down. Just a way of getting it out.
"It's easy to feel something when you walk off the course, and then a day later you don't feel the same. So your immediate reactions are quite important," he added.
"I haven't wrote for a few weeks, but in general, it's helped me, and it helps the people I work with if I write it down, and then like I say, you can talk about it."
And people are talking about Fleetwood.
Despite having never won a title in the United States, Fleetwood finds himself in the same conversation as a PGA Championship favourite alongside world number one Dustin Johnson, defending champion Justin Thomas and four-times major winner Rory McIlroy.
The whispers, however, are not nearly as flattering as the fact the charming Englishman inches towards the unwanted label of being known as the best player yet to land a major title.
Still there are good reasons Fleetwood is rated a contender and many are linked to his strong results at golf's big events where his name always seems to pop up on the leaderboard.
He tied for 17th at the Masters, second at the U.S. Open, tied 12th at the British Open and held the second-round lead last week at the WGC-Bridgestone Invitation.
"Without a doubt, the next step in my career is to win in America and so on and so forth, win a major," Fleetwood said. "So whether it will be winning the PGA or winning a regular Tour event, it would be sort of the next step.
"For me personally, it's a case of keep doing the same things. I've had a good run of putting myself in contention in a lot of the big events and it just so far hasn't happened.
"Sometimes golf is just like that, and it's just a case of keep doing what you're doing, and eventually it will happen."
(Editing by Ed Osmond)