Diving - Laugher is 'The Man' with second European diving gold
Comments
By Reuters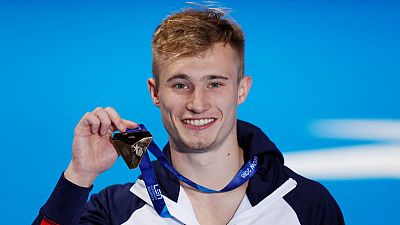 -
GLASGOW (Reuters) – Jack Laugher dived to his second gold of the European Championships, completing the springboard double on Thursday when he added the three-metre title to his victory in the one-metre event.
The 23-year-old Olympic champion, who goes from strength to strength as Britain's most successful diver, outduelled his Russian rival, former Olympic gold medallist Ilia Zakharov to win what he felt was an "emotional" competition for him.
Laugher reckoned he had reached the point in his career where he can say: "I am 'The Man' now."
He found himself in fierce competition at Edinburgh's Royal Commonwealth Pool with the Russian pair of Zakharov and eventual bronze medallist Evgenii Kuznetsov, who both outdived him on the last attempt, but the Briton's consistency had already proved the difference.
He won with a total of 525.95, 6.9 points clear of Zakharov (519.05) and 17.9 ahead of Kuznetsov (508.05).
"I've progressed in my career to a point where I am consistently winning medals," Laugher said after the preliminary rounds. "I think people fear me as an athlete. When I step out onto the board, I feel like I am 'The Man' now.
"I'm extremely emotional because of how tough the contest was. I wanted to cry, but I've still got to stay focussed with the synchro to come."
Laugher will aim to win a third gold with his Olympic gold medal-winning partner Chris Mears in the 3m springboard synchronised competition on Friday.
"Me and Chris are defending champions but those Russians are looking fantastic and it's their biggest event of the year. But I'm hoping we can pull it out of the bag," Laugher said.
Earlier, the Russian pair of Aleksandr Bondar and Viktor Minibaev had won the synchronised 10m platform title convincingly from British pair Noah Williams and Matthew Dixon and Armenian duo Vladimir Harutyunyan and Lev Sargsyan.
(Reporting by Ian Chadband, editing by Pritha Sarkar)