Deutsche Telekom again lifts core profits guidance
Comments
By Reuters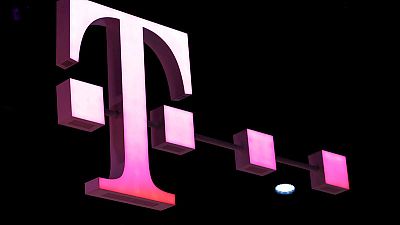 -
FRANKFURT (Reuters) – Deutsche Telekom <DTEGn.DE> raised its profit outlook for the second time this year as it reported second-quarter results which showed underlying growth, although this was offset by a drag from the weaker U.S. dollar.
Europe's largest telecoms operator said it now expected adjusted earnings before interest, taxation, depreciation and amortisation (EBITDA) to reach 23.4 billion euros (£21.12 billion) in 2018, up from 23.3 billion previously, at constant exchange rates.
"We remain firmly on track," Chief Financial Officer Thomas Dannenfeldt said of the results. "The trends in Germany and the United States are positive. At our European subsidies, we are again posting sustained growth."
U.S. unit T-Mobile <TMUS.O>, which is seeking regulatory approval to take over rival Sprint <S.N>, has already reported strong customer growth in its second-quarter results.
Its contribution was dented, however, by the U.S. dollar's 10 percent decline against the euro over the last 12 months.
Deutsche Telekom's revenues declined by 2.8 percent, year on year, to 18.37 billion euros, shy of expectations in the company's own poll of analysts. Adjusted EBITDA was also just down, by 0.3 percent, albeit beating market expectations.
On an organic basis, stripping out the impact of exchange rate fluctuations, revenues and adjusted EBITDA grew by 1.3 percent and 3.9 percent respectively.
Adjusted net profit, the key metric for setting dividends in Deutsche Telekom's recently adopted mid-term strategy, rose 3.3 percent to 1.238 billion euros.
That stripped out the impact of a 600 million euro settlement over an ill-fated road toll project, against which Telekom took a charge in the quarter.
(Reporting by Douglas Busvine; Editing by Maria Sheahan)