Canada's Ontario pledges $25 mln, measures to fight rise in gun crime
Comments
By Reuters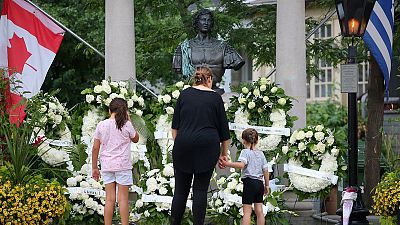 -
By Anna Mehler Paperny
TORONTO (Reuters) – Ontario on Thursday pledged $25 million for police and to keep suspects behind bars while they await trial on gun crimes charges, as the Canadian province grapples with rising shootings involving domestically obtained weapons.
For years, the primary source of guns used in Canadian crimes was the United States, with weapons smuggled across the world's longest unprotected border.
That has changed in recent years with licensed gun-owners buying firearms legally and then illegally re-selling them into criminal networks, current and former police officers, Crown prosecutors and gun sellers said.
Last month, a gunman walked down Toronto's bustling Danforth Avenue, killing two people and wounding 13 before turning his gun on himself.
The mass shooting shook Canada's largest city and prompted calls for tougher action on gun control.
With stricter gun laws than the United States, Canada also does not have the gun culture or gun rights that exist in its southern neighbour. Still, it is legal for licensed civilians to own a range of firearms and purchase as many as they want after a waiting period.
In the wake of the Danforth shooting, the Toronto city council called on the federal government to ban handguns within city limits.
Prime Minister Justin Trudeau said he would consider the idea and Minister Bill Blair, tasked with tackling gun violence, said the government is considering giving provinces the power to designate gun-free cities.
"It's possible that we could work with the provinces and territories and allow them the authority to designate certain municipalities as places where guns could not be purchased or possessed," he told Reuters in an interview.
Ontario Premier Doug Ford dismissed the idea of a handgun ban on Thursday, telling reporters "there's a lot of legal, reasonable handgun owners … We have to focus all our resources on going after the bad guys."
Ontario will give Toronto police C$18 million and dedicate another C$7.6 million toward additional bail officers and "legal SWAT teams" to oppose bail for people accused of gun crimes. The government did not provide additional information Thursday on how those teams would work.
(Reporting by Anna Mehler Paperny; Editing by David Gregorio)