Venezuela set to scrap lawmakers' immunity after drone explosions
Comments
By Reuters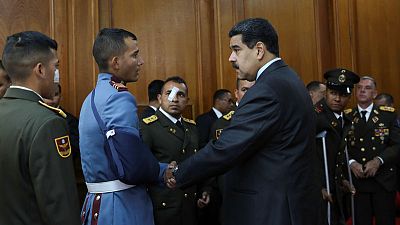 -
CARACAS (Reuters) – Venezuela's Constituent Assembly was expected on Wednesday to scrap immunity for some opposition lawmakers it says were involved in an attempt to assassinate President Nicolas Maduro with exploding drones at a rally last weekend.
Juan Requesens, a 29-year old lawmaker and former student leader, was detained on Tuesday night in apparent connection with the drone incident.
Leftist Maduro had said that Requesens, who he described as "one of the craziest ones, a psychopath," had been implicated in the launch of two DJI M600 drones laden with C4 explosives over an outdoor rally attended by Maduro on Saturday.
The powerful president of the Constituent Assembly, Diosdado Cabello, said that the pro-government body would on Wednesday discuss lifting immunity for lawmakers involved in the "failed magnicide attempt."
Maduro was unharmed in the drone incident. Explosives aboard the drones detonated, injuring seven military officers and sending attendees scurrying for cover.
Maduro's foes said he was using the drone explosions as an excuse to arrest his rivals and amass power in the oil-rich nation suffering from food shortages, salary-destroying hyperinflation and frequent power cuts.
"If the Constituent Assembly removes our congressional immunity they will be once again violating the constitution and international law. Sooner or later they will go to jail! Venezuela is living a political attack," tweeted opposition lawmaker Luis Carlos Padilla.
Requesens' detention further swells the ranks of opposition activists forced into exile, arrested, or barred from politics during Maduro's crackdown on dissent.
"Many of our brothers are outside the country, many are underground because they were killed – because you killed them, Nicolas!" Requesens had told the opposition-led congress on Tuesday before his evening arrest.
"And those of us who can still be here are going to keep giving it our all. Today I can speak to you here, but I do not know about tomorrow," added Requesens, who was often on the forefront of massive anti-Maduro street protests in 2014 and 2017.
Maduro counters that he is the victim of a right-wing plot led by the Colombian government and U.S. residents to throw him out of office. On Tuesday night he said investigations had discovered that the drone suspects had prepared at a training camp across the border in Colombia and that 11 hit men had been offered $50 million to assassinate him.
(Reporting by Alexandra Ulmer, additional reporting by Deisy Buitrago, Andreina Aponte and Vivian Sequera; Editing by Alistair Bell)