U.S. 'not willing to wait too long' for North Korea to act - U.N. envoy
Comments
By Reuters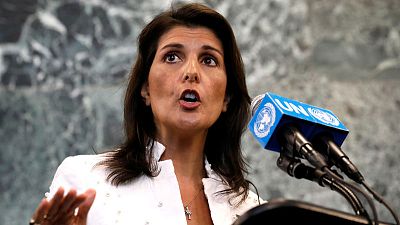 -
By Julia Symmes Cobb
CUCUTA, Colombia (Reuters) – The United States is "not willing to wait for too long" for North Korea to take steps toward denuclearisation, U.S. Ambassador to the United Nations Nikki Haley said on Wednesday.
At a landmark summit in June, North Korean leader Kim Jong Un and U.S. President Donald Trump pledged to work to end Pyongyang's nuclear weapons programs, but the two countries have been struggling to reach a detailed accord to meet that goal.
"This is all in North Korea's court," Haley told reporters travelling with her during a visit to Colombia, where she attended the inauguration of new Colombian President Ivan Duque and met migrants who had fled Venezuela.
"They have to understand that the international community still expects them to denuclearize and so we're willing to wait if they want to wait, but we're not willing to wait for too long," said Haley, who has pushed through three U.N. sanctions packages since arriving at the world body 18 months ago.
White House national security adviser John Bolton on Tuesday said U.S. Secretary of State Mike Pompeo was prepared to return to North Korea for another meeting with Kim.
Haley said Pompeo had delivered "solid" U.S. demands to North Korea and that Washington would not weaken those or ease sanctions on Pyongyang. Russia and China have suggested the U.N. Security Council could discuss loosening sanctions on Pyongyang after the June 12 Singapore meeting between Trump and Kim.
"It's going to be a long process, we knew this wasn't going to happen overnight," said Haley. "We have to see denuclearisation and we're not going to stop until we get it."
(Reporting by Julia Symmes Cobb; Writing by Michelle Nichols; Editing by James Dalgleish)