Turkey's foreign currency reserves - not much of a cushion
Comments
By Reuters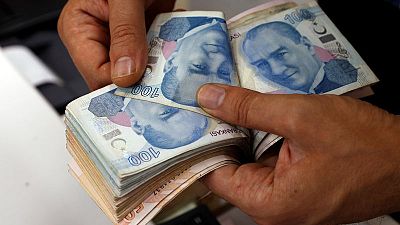 -
By Marc Jones
LONDON (Reuters) – Turkey's currency troubles are fuelling worries about a full-blown balance of payments crisis, and as these graphics show, whichever way you look at it, the country's foreign currency reserves don't provide much protection.
1/SHORT-TERMVIEW
One of the most common methods used to gauge the adequacy of a country's reserves is to compare them with its upcoming debt payments, and by this yardstick Turkey stands out due to its large stack of foreign currency borrowings.
That ratio dropped to just below 74 percent at the mid-year point, having started 2018 at about 90 percent. Even that was low, as 100 percent is generally considered the minimum.
In the simplest terms it means that without access to borrowing markets or without generating extra reserves, Turkey could in theory default. It needs to refinance around $200 billion a year on average.
Turkey's reserves might not cover much either – https://reut.rs/2OhrgaI
2/RAM BAM
The International Monetary Fund is seen as the oracle on currency crises due to its vast experience in trying to put countries' finances back together. It has developed a broader gauge it calls the Reserve Adequacy Measure (RAM) which tries to capture the total resources a country has available to meet shocks.
On top of the traditional FX and gold reserves, it also takes into account central bank swap lines, sovereign wealth fund ammunition and access to IMF and other protective financing to calculate an overall ratio.
The IMF's rule of thumb is that a country's RAM ratio should be between 100 and 150 percent. Turkey's is now below 75 percent having dropped every year since 2013.
Turkey's foreign exchange reserves – https://reut.rs/2MuuEyM
3/UNDERCOVERED
Another measure that some experts say is now overly simplistic is the amount of time that a country's reserves would cover the costs of it imports.
Turkey is a big energy importer, so in that sense it does have a particular relevance, especially when oil and gas prices are 50 percent higher than they were a year ago and still rising.
Three months' import cover is typically seen as the lowest safe level. Turkey's figure is currently around five months according to the most recent data, though it will drop rapidly if the lira doesn't stabilise.
Lira slump pushing down Turkey's import cover ratio – https://reut.rs/2OfMZ2W
(Reporting by Marc Jones; Editing by Hugh Lawson)