Tesla board evaluating CEO Musk's idea to take company private
Comments
By Reuters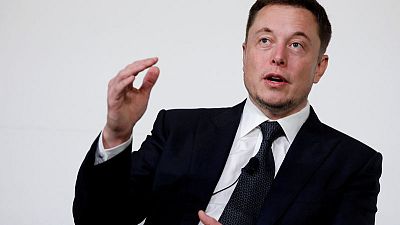 -
(Reuters) – Tesla Inc said on Wednesday its board is evaluating Chief Executive Elon Musk's idea of taking the company private after he brought the matter up for discussion last week.
Musk took Tesla shareholders and the stock market by surprise on Tuesday by announcing on Twitter he was considering taking the loss-making electric car-maker private at $420 (325.4 pounds) a share. In his first tweet he said funding was secured but provided no details.
That would mark the biggest such transaction in history, worth more than $70 billion (54.2 billion pounds).
In a statement on Tesla's website on Wednesday, six of Tesla's nine directors said the board had met several times over the last week to discuss the idea and was "taking the appropriate next steps to evaluate this."
They said the board also addressed the issue of how to fund such a deal, but gave no details.
Tesla's shares were down slightly at $377.38 (292.4 pounds) in morning trading on Wednesday after closing up 11 percent at $379.57 on Tuesday.
In a letter to shareholders after his tweet on Tuesday, Musk fleshed out his idea, suggesting they would get the option to sell their shares for $420 each or remain investors in a private Tesla, out of the glare of Wall Street and its need for quarterly results.
He said that would allow Tesla to "operate at its best, free from as much distraction and short-term thinking as possible."
Some Wall Street analysts are skeptical of Musk's ability to gather the financial backing to complete such a deal.
"Who gives $30 to $50 billion to buy back the shares?," asked NordLB analyst Frank Schwope. "And if you stay as a shareholder you get less information than before and you depend more and more on Elon Musk."
JPMorgan analyst Ryan Brinkman said he gave only a 50 percent probability that Tesla would go private.
The six board members who issued the statement on Wednesday included James Murdoch, chief executive of Twenty-First Century Fox Inc and Brad Buss, who was the chief financial officer of solar panel maker SolarCity until it was bought by Tesla in 2016.
Other board members mentioned in the statement included Robyn Denholm, Ira Ehrenpreis, Antonio Gracias and Linda Johnson Rice. Tesla's other board members are Musk, his brother Kimbal Musk and venture capitalist Steve Jurvetson.
(Reporting by Supantha Mukherjee and Arjun Panchadar in Bengaluru, Ben Klayman in Detroit; Writing by Bill Rigby; Editing by Saumyadeb Chakrabarty and Meredith Mazzilli)