Star witness Gates to testify for third day in Manafort trial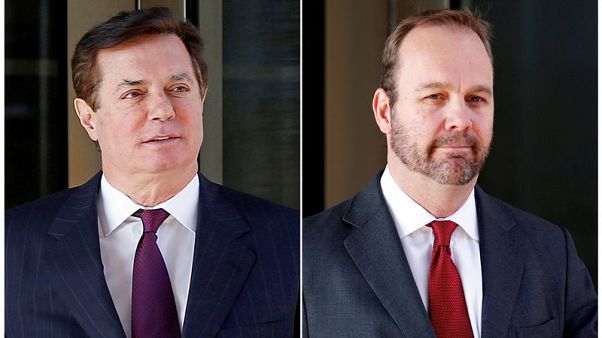 By Sarah N. Lynch, Nathan Layne and Karen Freifeld
ALEXANDRIA, Va. (Reuters) – U.S. President Donald Trump's former deputy campaign manager Rick Gates will take the stand for a third day on Wednesday, after admitting he stole money from his former boss Paul Manafort and helped falsify documents to avoid taxes.
Gates, 46, is expected to be cross-examined for about another hour by Manafort's attorney Kevin Downing before prosecutors get a second chance to try and undue some of the possibly damaging testimony he gave during their redirect.
Downing on Tuesday spent several hours firing questions at Gates to impugn his credibility and paint him as a liar, asking about everything from his extramarital affair in London and funds he embezzled from Manafort, to questions on whether he may have crossed the line by submitting personal expenses when he worked for Trump's inaugural committee.
Gates, who pleaded guilty in Special Counsel Robert Mueller's investigation in February, has testified that he helped Manafort falsify his tax returns, lie to banks to get loans and hide foreign bank accounts that Manafort used to receive payments from oligarchs for political work he did in Ukraine.
Manafort's defence team's primary strategy has been to pin much of the blame for financial crimes on Gates, and some observers felt Downing made some headway toward that goal on Tuesday.
"I think Gates was a very poor witness…I thought he was needlessly evasive and argumentative," said Barbara McQuade, a former U.S. Attorney in Michigan who has been watching the trial and said she observed jurors reacting with negative body language as he testified.
However, she added, she still believes the government has a strong chance of winning its case.
"I think the jury will hate (Gates), but they should still convict (Manafort) because of the testimony of other witnesses and the other documents that do put all of this on Manafort."
Manafort, who served briefly as Trump's campaign manager in 2016, has pleaded not guilty.
In the six days since the trial began, the jury has heard from 15 witnesses including two of Manafort's former accountants and his former bookkeeper.
All three testified that Manafort and Gates failed to tell them about the foreign holdings in Cyprus. Cindy Laporta, one of the accountants, also testified that Manafort and Gates had used phoney loan documents to improperly reduce Manafort's income and lower his tax bill.
In detailed testimony this week, Gates has walked prosecutors through the step-by-step process on how he and Manafort doctored and backdated documents.
In one example, Manafort and Gates emailed each other copies of a doctored profit and loss statement they later sent a bank to help Manafort obtain a loan.
Gates also admitted, however, that the same tricks he used to help doctor and falsify records for Manafort he also deployed for his own personal gain in order to covertly wire funds out of Manafort's offshore accounts to line his own pockets.
Downing seized on those admissions to try and cast doubt on whether the jury can trust Gates' claims that he only carried out the fraud alleged by prosecutors at Manafort's behest.
Michael Zeldin, a former federal prosecutor, said that in Downing's remaining hour of cross-examination on Wednesday, he needs to keep painting Gates as an unreliable person who cannot be trusted.
"I think he has to keep hammering at the point that Gates is not a credible witness and he can't be believed," he said.
"The government's case is built around Gates and if you have reason to doubt Gates you have reason to doubt the whole prosecution."
(Reporting by Sarah N. Lynch, Nathan Layne and Karen Freifeld; Editing by Lisa Shumaker)
euronews provides breaking news articles from reuters as a service to its readers, but does not edit the articles it publishes. Articles appear on euronews.com for a limited time.