Soccer - Bolt to be given time to prove himself, says Mariners boss
Comments
By Reuters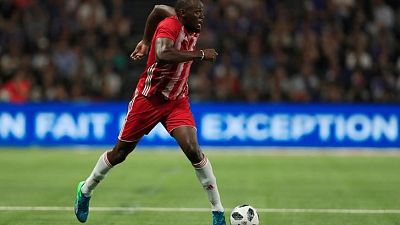 -
MELBOURNE (Reuters) – Usain Bolt will train at the Central Coast Mariners for as long as it takes to become a professional footballer and has agreed to reside in the A-League team's sleepy home base as part of the deal, Mariners CEO Shaun Mielekamp said on Wednesday.
The Mariners confirmed on Tuesday the Olympic sprint champion would train "indefinitely" with the club, which finished bottom of Australia's 10-team top flight last season and plays in one of the country's smallest soccer markets.
"His training programme will be structured to see if he can reach a level of play which earns him a professional contract," Mielekamp told reporters at the Mariners' base in Gosford, a suburb of the Central Coast region north of Sydney.
"This may take three weeks, this may take three months, this may take six months.
"It may take longer, who knows? Only time will tell but it's exciting to see what this will do for our region. But the importance for us right now is to look after an athlete who is coming to try to become a professional player."
Jamaican Bolt, who won eight Olympic golds before retiring at the world championships in London last year, has trained with Germany's Borussia Dortmund, South Africa's Mamelodi Sundowns and Norway's Stromsgodset.
The Central Coast, a magnet for domestic holidaymakers and retirees in Australia's eastern state of New South Wales, is an unlikely destination for a global athletics superstar to reboot his sporting career.
But Mielekamp said Bolt had already committed to the club's community-minded ethos, which requires players to reside in the area rather than enjoy the big-city comforts of Sydney and commute.
"The same for all our players, all our players are expected to be living on the Central Coast," he said.
"It's a big part of our club and we spoke to him very early doors about living and residing here in the Central Coast and he's agreed to that which is great.
"The one driving thing that has been through this whole thing has been his own personal passion, his own personal belief and personal desire.
"We've spoken to him about our club, what our beliefs are, we spoke to him about going down to the local school and doing school appearances and those sort of things and he's bought right into that which has been fantastic."
Without providing details, Mielekamp confirmed the arrangement had commercial benefits for Bolt but hoped it would also have a meaningful long-term impact for the Mariners, beyond boosting match-day crowds, which averaged about 8,000 last season, if the world's fastest man could win a contract.
"We've been inundated with sponsors' calls this morning which has been exciting," he said.
"And for us that long-term effect is something we've got to be mindful of. How can we use this moment to improve the club for the long-term?
"But it's still very early days."
(Reporting by Ian Ransom; Editing by Peter Rutherford)