Ryanair pilots in Germany join wider walkouts with Friday strike
Comments
By Reuters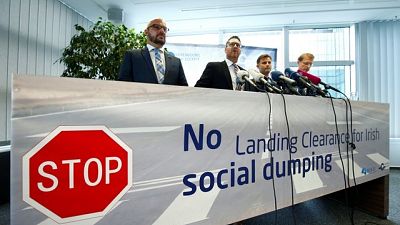 -
FRANKFURT (Reuters) – Ryanair <RYA.I> pilots in Germany will strike for 24 hours on Friday, their union said, adding to action planned in Ireland, Sweden and Belgium as Europe's biggest airline by passengers struggles to agree labour deals.
Ryanair, which late last year agreed to recognise unions, faces a rising tide of protests from unions frustrated at the slow progress being made in negotiations over collective labour agreements.
The Irish airline has already cancelled 6 percent of the more than 2,400 flights it has scheduled across Europe on Friday as a result of strikes planned in Ireland, Sweden and Belgium.
Dutch pilots' union VNV is also considering calling for strikes on Friday but has not yet taken a decision, a spokesman said.
The walkout by pilots based in Germany will start at 0101 GMT on Friday, affecting all flights from Germany, the Vereinigung Cockpit (VC) union said in a statement.
"We hope that the strike will lead Ryanair to say they are ready to compromise with us and enter serious negotiations," VC President Martin Locher said.
The union said that while pilots appreciated the carrier's five days on, four days off rotas, they want to change the fact that salaries had a large variable component and also alter Ryanair's practice of moving staff between bases without much notice.
"Pilots are not nomads who put up tents wherever Ryanair wants to operate," negotiator Ingolf Schumacher from the union said.
Ryanair operates more than 2,000 flights a day, serving 223 airports across 37 countries in Europe and North Africa.
Ryanair's low-cost model makes it Europe's most profitable airline, and the VC union said the company had ruled out any increase in staff costs.
Ryanair has further angered unions by threatening to shift jobs if walk-outs hurt its business.
"Improvements are not possible without an increase in staff costs in the cockpit," Locher said. "At the same time, Ryanair has not yet said where there might be room for manoeuvre."
Ryanair executives are due to hold a news conference in Frankfurt on Wednesday.
In the row with Irish pilots, Ryanair has proposed that a third-party mediator join talks.
Ryanair shares are down more than 10 percent this year. They were trading up 0.2 percent at 1026 GMT on Wednesday.
(Reporting by Patricia Weiss and Victoria Bryan; additional reporting by Bart Meijer in Amsterdam; editing by Maria Sheahan and Jason Neely)