EU parliament agrees to ease liquidity rules for gold trading
Comments
By Reuters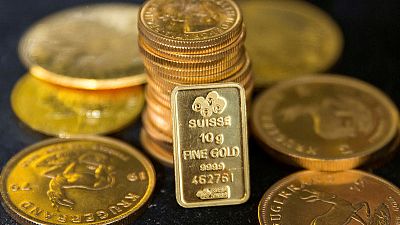 -
By Peter Hobson
LONDON (Reuters) – The European Parliament has agreed to ease tough new liquidity rules for banks trading gold, marking a success for the London Bullion Market Association's (LBMA) campaign to revise the plans.
The proposed rules are due to come into effect in the European Union around 2020 as part of regulations known as Basel III designed to make banks more stable and prevent a repeat of the financial crisis a decade ago.
But the LBMA, whose members include major gold refiners and bullion-trading banks, had warned that the rules were too demanding and could force some players out of the market.
The proposals treat physically traded gold like any other commodity, meaning banks would have to hold more cash as a proportion of their gold exposures as a buffer against adverse price moves.
The LBMA's General Counsel, Sakhila Mirza, said it took more than a year of lobbying to convince the European Parliament to lower a percentage used to calculate a liquidity buffer known as the net stable funding ratio (NSFR) that banks must hold.
"This reduction from 85 percent to 50 percent is a lifeline, but what we really want is zero percent for clearing and settlement and short-term transactions in precious metals," Mirza told Reuters.
"We've had success, but the job is not done yet," Mirza said.
Even a 50 percent requirement would mean the London bullion clearing system, which settled gold transactions worth $6.8 trillion last year, loses some or all operators, she said.
The European Parliament's Committee on Economic and Monetary Affairs did not immediately respond to a request for comment.
The LBMA has previously said the new rules would raise costs for those trading gold by up to 300 percent and make it more expensive for refineries and manufacturers to fund operations.
It says gold is a liquid asset and does not need an additional liquidity buffer.
The LBMA said having to provide the extra liquidity could mean a number of banks stop trading in gold, while others would have to pass on their extra costs to refiners which typically borrow gold to finance their business.
Mirza said the shift in the European Parliament's stance showed that it recognised that the NSFR requirement as currently written was not appropriate and gave momentum to further lobbying.
The five banks that run London's clearing system hold gold bars worth tens of billions of dollars which they use to provide liquidity to the market.
The European Commission, the EU's executive arm, and the Council of Ministers, which represents member states, must also approve any amendments for the regulation to be changed.
While Britain plans to leave the European Union in 2019, the EU's approach is likely to inform how Britain applies the Basel III requirements.
(Reporting by Peter Hobson; Editing by Pratima Desai and Jane Merriman)