Cricket - Pope ready to emulate England team mate Curran
Comments
By Reuters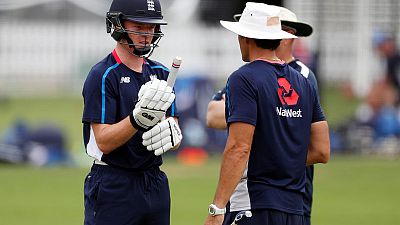 -
By Martyn Herman
LONDON (Reuters) – Young Surrey batsman Ollie Pope has come a long way in a short time and says he will be ready if, as looks likely, he makes his England debut against India at Lord's on Thursday.
The 20-year-old has only 15 first-class matches under his belt but looks certain to play in the second test in place of dropped Dawid Malan.
Pope will use the example set by county team mate Sam Curran who shone in last week's first match of the series, his second test appearance, with a five-wicket haul in India's first innings and a crucial half century in England's second.
"It's almost that naivety in the whole thing," Pope told reporters at Lord's on Tuesday. "I think I'm probably similar to him (Curran) — just ready to put the shirt on and just want to perform at my best.
"We've both played a fair bit of county cricket now and things have gone on an upward spiral."
It has been a whirlwind rise and Pope admits it has been hard to take in.
"If someone told me I'd be in the squad for the second test at Lord's at the start of the season, I wouldn't have really believed them," Pope, who is averaging 85 for Surrey in the county championship this year, said.
"Likewise, if someone told me I was going to make my Championship debut last year, I wouldn't have believed them.
"It's nice to do it with Sam in the same team. When I made my Surrey debut there were four 19-year-olds in there at the same time. Things happen quickly. It's exciting."
Pope, who is comfortable dealing with spin, bats at six for Surrey but could even be asked to go in at four for his country.
"If required (to bat at four), yes," Pope said. "Especially against this Indian side. They bowl a lot of spin, so I don't think there's a massive difference.
"When I bat at six I can be in the 10th over or for the second new ball. Four to six region, I don't think there's a massive difference in the way you play."
England won the first test in the five-match series by 31 runs.
(Reporting by Martyn Herman, editing by Ed Osmond)