IWG plunges as offices firm ends talks with remaining suitors
Comments
By Reuters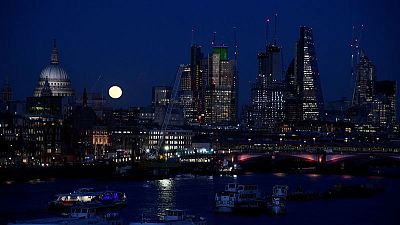 -
By Ben Martin
LONDON (Reuters) – IWG <IWG.L> has abandoned takeover talks with its three remaining suitors in a move that ends months of uncertainty over the London-listed provider of serviced offices but sent its shares tumbling.
The company behind the Regus brand said on Monday it had dropped negotiations with Starwood Capital, TDR Capital and Terra Firma because it did not believe any of them could deliver a deal at a price IWG could recommend to its shareholders.
That triggered a 22 percent plunge in IWG's shares to 234 pence, knocking approximately 600 million pounds off the company's market value to about 2.1 billion pounds.
The group has been circled by a host of potential buyers in recent months.
Canadian bidders Onex Corp <ONEX.TO> and Brookfield Asset Management <BAMa.TO> made a joint approach in December after IWG shares fell following an October profit warning, only for talks to collapse at the start of February.
Starwood, TDR and Lone Star then emerged as rival suitors in May, while Prime Opportunities made a bid later that month and Terra Firma entered the running in June, before IWG sounded a second profit warning.
Talks with Lone Star and Prime Opportunities ended in June and July respectively.
Key to a takeover would have been IWG's Chief Executive Mark Dixon, who founded the firm in 1989 and is its biggest investor with a 25.4 percent stake.
He said shareholders he had spoken to were supportive of the decision to end discussions with the final three suitors.
"Investors don't want us to suddenly say let's do any deal at any price, we're not in that position," Dixon said. "Overall, it's a question of terms, value, timing, everything else. It's not a simple thing called price."
He declined to comment on the level of the potential bids that IWG's possible buyers were considering.
The rapid rise of trendy U.S. co-working firm WeWork, which was founded in 2010, has thrown a spotlight on serviced offices, an industry Dixon helped to pioneer with IWG.
Last year, the U.S. start-up, which is increasingly rivalling IWG, was valued at $20 billion (£15.4 billion), even though it is currently loss-making, after Japanese conglomerate SoftBank made a $4.4 billion investment in the business.
TOSCAFUND'S BACKING
Martin Hughes, whose investment firm Toscafund is IWG's second-largest shareholder, told Reuters he backed the move to end deal talks because the process was taking too long.
IWG's decision came as it posted a 2.9 percent rise in first-half pretax revenues to 1.2 billion pounds, although operating profit slumped by 31 percent to 60 million pounds.
The group blamed the profit drop on the impact of closing some locations and losses from new sites it had opened, an expansion that saw overheads rise by 8 percent to 134.1 million pounds in the six months to the end of June. It added 132 sites during the period, taking its estate around the world to 3,211 locations encompassing 54.2 million square feet.
The company said it was confident of meeting management expectations for the full year but did not give specific guidance for revenues or profits. Its interim dividend was lifted by 11 percent to 1.95 pence and IWG also said it would buy back shares.
"We believe IWG has an unrivalled market position, significant expansion potential and strong structural growth drivers," RBC Capital Markets analyst Andrew Brooke said in a note, adding the results were in line with his lowered expectations following the June warning.
"However, with the company continuing to embark on an aggressive expansion plan, and credibility still low, we believe it will be sometime before the market will give the benefit of the doubt."
Dixon said IWG had reviewed a range of transaction multiples when considering how much his company might be worth in a sale, but that WeWork's valuation had "not really" been a factor.
"If you were looking at things from a reasonable perspective you would not think that would be a sustainable valuation," he said of WeWork.
(Reporting by Ben Martin; Editing by Jason Neely and Mark Potter)