Exclusive - Russia's Gazprom suspends external borrowing amid spat with Naftogaz: sources
Comments
By Reuters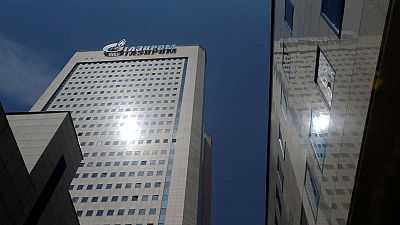 -
By Oksana Kobzeva and Sandrine Bradley
MOSCOW/LONDON (Reuters) – Russia's Gazprom <GAZP.MM> suspended its external borrowing programme earlier this year because of a deepening legal dispute with Ukraine's Naftogaz over gas supplies, three banking sources told Reuters.
A London court in June froze the gas giant's assets in Britain at the request of Naftogaz. The Ukrainian company was seeking to enforce an earlier arbitration ruling from Sweden that ordered Gazprom to pay it $2.6 billion (£2.01 billion).
The British verdict is likely to have spooked Western banks that traditionally work with Gazprom because it raises the possibility that any new funds the company might raise via London could also be frozen, one of the sources said.
Gazprom is still able to raise funds on the Russian market, recently testing investors' appetite with a 40 billion rouble bond (£485.42 million), but the situation means it faces higher borrowing costs and prolonged regulatory uncertainty, the bankers say.
Gazprom, which is on the hook to repay $15.2 billion in external debt this year, had planned to start meeting investors to test their appetite for a potential sterling Eurobond in the middle of June, a Russian banker involved in that deal said.
However, the deal was cancelled days before the British court's June 18 announcement, the banker said.
He said that the decision was made as the relationship between Moscow and the West grew increasingly tense because of U.S. sanctions against Russian businessmen and a row over former spy Sergei Skripal's assassination attempt on British soil. Russia has denied any involvement.
Two other London-based bankers said the decision to call off the Eurobond issue was also taken as Gazprom adopted a cautious stance ahead of the London ruling.
One of the sources, who all declined to be named because they were not authorised to speak on the matter, said that Gazprom had also planned to sell Eurobonds in euros and Japanese yen in the autumn, but that those plans had stalled too. Meanwhile, one of the banks that works with Gazprom put a loan for the Russian firm on hold until the situation around its finances in the West became clearer, the same source said.
Gazprom declined to comment.
"As I understand it, settlements with foreign banks done via London are affected," another banker said.
A third source, citing a banker who works with Gazprom, said Gazprom had stopped making any payments through banks in Britain.
However, the London court's ruling does not prevent the company from servicing outstanding debt, a lawyer familiar with the process said.
CHANGINGTACK
Gazprom's original plan had been to borrow 417 billion roubles ($6.57 billion) externally this year.
It is currently building two new pipelines to southern Europe and China, and preparing to start construction of the Nord Stream 2 to Western Europe under a projected investment programme of 1.3 trillion roubles this year.
Gazprom has a sufficient cash cushion to deal with its costs but western financing is a cheaper alternative for the company, the bankers said. In March, prior to the London court ruling, Gazprom raised 750 million Swiss francs via a 5-year Eurobond where UBS <UBSG.S> was the only Western bank involved, and another 750 million euros in an 8-year Eurobond arranged by Deutsche Bank <DBKGn.DE> and JPMorgan <JPM.N> along with three Russian banks.
In May, Gazprom raised 600 million euros via a loan from Credit Agricole <CAGR.PA>.
Deutsche Bank and JP Morgan declined to comment on Gazprom's external borrowing operations.
Other banks that have worked on Gazprom's external financing programmes, such as Société Générale <SOGN.PA>, Commerzbank <CBKG.DE>, UniCredit <CRDI.MI>, UBS, BNP Paribas <BNPP.PA> and Sumitomo Mitsui Banking Corp, also declined to comment.
Credit Agricole could not immediately comment. Nomura and Intesa Sanpaolo <ISP.MI> did not reply to Reuters requests.
Naftogaz said that Gazprom's failure to comply with the original decision of the Stockholm court was creating problems and it was better for Gazprom to pay the $2.6 billion it owed.
(Additional reporting by Sudip Roy and Sandrine Bradley in LONDON, Taiga Uranaka and Thomas Wilson in TOKYO, Michael Shields and Brenna Hughes Neghaiwi in ZURICH, Andreas Framke and Hans Seidenstuecker in FRANKFURT, Inti Landauro in PARIS, Agnieszka Flak in MILAN and Pavel Polityuk in KIEV; Writing by Katya Golubkova; Editing by Andrew Osborn and Kirsten Donovan)