ECB focused on longer-dated papers in QE last month
Comments
By Reuters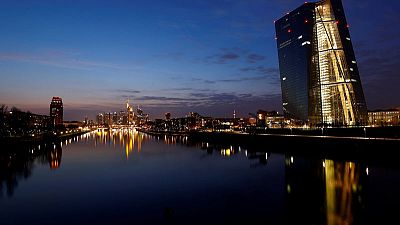 -
FRANKFURT (Reuters) – The European Central Bank continued to skew its government bond purchases towards the longer end of the yield curve last month, broadly maintaining the average remaining maturity of its massive debt pile, data showed on Monday.
With the ECB due to stop buying new bonds from next year, some policymakers including chief economist Peter Praet have argued that the natural ageing of its 2.5 trillion euro debt pile would weaken stimulus over time, a potential argument to target longer-dated papers to keep borrowing costs down.
Indeed, the remaining maturing of its government bond portfolio was 7.58 years at the end of July, down from 7.59 years a month ago, remaining broadly steady over the past four months and indicating that buys last month had a maturity well in excess of 10 years.
That is a big change from previous quarters, when the average duration of the portfolio dropped slowly but steadily, raising some concern that such a "duration leakage" would reduce ECB support and make it desirable to reinvest cash from maturing debt with a focus on the long end of the curve.
The bank is due to have a broader discussion of its reinvestment policy at one of its upcoming meetings and sources close to the discussion said that one of the issues on the table would be whether such a focus on longer papers was necessary.
Still, even before such a discussion takes place, data is suggesting that the bank is already doing such a tweak, arresting the drop in duration happening since a peak of 8.37 years in October 2016.
While the natural erosion would weaken stimulus, some have argued that pushing down long-term borrowing costs would flatten the yield curve, hurting banking profitability and creating unrealistic expectations about future policy rates.
The ECB has said it would reinvest proceeds from maturing debt in the same jurisdiction within three months.
It has pledged to be market neutral – that is to buy individual bonds in proportion to their outstanding amount – while retaining some flexibility based on "the relative values of bonds and the liquidity of the different maturity segments".
Among its monthly purchases, the ECB bought more German and Spanish papers than its own rules would dictates, primarily at the expense of Dutch papers, which fell sharply compared to previous months.
Monthly purchases fluctuate, however, and they are also influenced by redemptions. The ECB has long said that its focus was on buys over the duration of the programme and monthly fluctuations are of a technical nature and not policy considerations.
(Reporting by Balazs Koranyi; Editing by Alison Williams)