Macron against trade deal with the US
Comments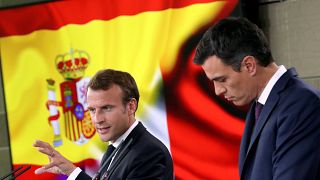 French President Emmanuel Macron says he wants gestures from the United States over steel and aluminium taxes.
He says he is also opposed to negotiations for a comprehensive trade agreement between Europe and Washington.
His comments came on his first official to Spain to meet new Socialist Prime Minister Pedro Sanchez
"I have said from the beginning a good business discussion can only be held on the basis of equality, reciprocity and under no circumstances on threats," he said. "I am not in favour of launching into a negotiation of a vast trade accord like TTIP because the context doesn't allow it."
Macron is due to meet Portugal's Prime Minister Antonio Costa on Friday before an EU summit on improving the Iberian Peninsula's energy links with the rest of Europe.