Weary Venezuelans rely on 'dog cart' transports as buses succumb to crisis
Comments
By Reuters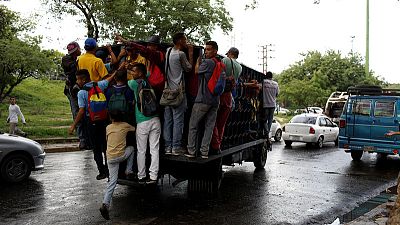 By Vivian Sequera and Mayela Armas
VALENCIA, Venezuela (Reuters) – On a recent afternoon, a crowd of hundreds massed on the sidewalk outside an exit from the subway in the central Venezuelan city of Valencia.
But when a flatbed truck previously used to transport water bottles pulled up nearby, a ruthless scramble kicked off with pregnant women, parents holding toddlers and elderly Venezuelans all jostling to get themselves aboard.
In this once-thriving industrial city as in much of the country, public buses have gradually disappeared due to scarce or prohibitively expensive tires, motor oil, batteries and spare parts.
Cargo trucks of all shapes and sizes have taken their place, but most lack even basic safety protections for human cargo and are increasingly associated with accidents and injuries to passengers – a further sign of the deteriorating quality of life in the crisis-stricken country.
The "dog carts," as they are informally known in Caracas, tend to squeeze standing passengers – mostly poor Venezuelans – into the backs of the large vehicles.
"It's tough. I'm tired on the way there, tired on the way back, I feel terrible," said exhausted homemaker Angelica Gomez, wiping sweat from her brow as she climbed into a flatbed truck with metal railings on the sides.
There are no exact records of how many cargo trucks circulate in different cities. Schedules and rates vary from one place to another as well.
Similar forms of transport have been common in developing countries and struggling economies in recent decades, but are rarely seen in oil-rich countries such as Venezuela. Other countries have also made an effort to provide safer public transit options.
The Information Ministry did not reply to an email seeking comment on this spontaneous mode of public transport.
DWINDLINGFLEET
But these cargo trucks are now nearly as common as passenger buses in Venezuela, where transport union leaders say a fleet that two years ago was estimated at of 280,000 vehicles has been whittled to just 30,000.
Similar stories abound in the country of 30 million people which is reeling from a fifth straight year of economic contraction and annual inflation estimated at some 46,305 percent in June.
Opposition lawmaker Nora Bracho estimates 39 people have died and around 275 have been injured so far this year in accidents involving unlicensed modes of public transit.
Accidents are often due to poorly maintained vehicles with bald tires or insufficient oil as well as reckless drivers, according to passengers and union leaders.
In violence-rife Venezuela, the chaos on these trucks can also be targeted by criminals.
Andreina Leal, a 36-year-old hairdresser, was robbed of her cellphone and cash during a recent trip on a truck in the western state of Tachira.
"I run the risk of falling, so I hang on tightly to the truck," said Leal as she waited for another truck to pick her up. "I was already robbed once because I was so focussed on not falling."
Mechanic Rafael Castillo, 53, decided around a month ago to use his old truck to transport people as he needed cash.
Brushing aside worries about safety, he began picking up passengers in his truck, which has metal bars on the sides behind the cab since it was previously used to transport cattle.
"This is providing relief for people," said Castillo, as peopled climbed in. "There are no buses, this is a way for them to get home."
(Writing by Alexandra Ulmer, editing by G Crosse)