Germany's Scholz keeps distance from Macron's euro zone budget
Comments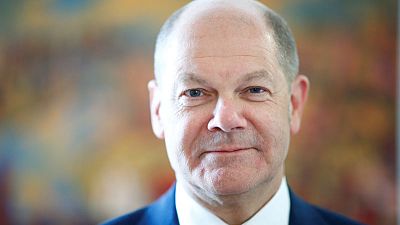 By Michael Nienaber and Gernot Heller
BERLIN (Reuters) – German Finance Minister Olaf Scholz struck a cool note on French President Emmanuel Macron's idea for a euro zone budget in an interview with Reuters, in a sign that Berlin and Paris may struggle to present an ambitious reform package next month.
In a wide-ranging interview about the future of Europe, political turmoil in Italy and the escalating trade dispute with the United States, Scholz underlined Germany's willingness to strengthen the European Union's cohesion in light of Britain's departure.
But when asked repeatedly if he supported Macron's proposal for the creation of a euro zone budget in addition to the existing EU budget, Scholz kept his cards close to his chest.
"The French President has made various proposals in his Sorbonne speech which we are looking at as a whole very closely," he said, adding: "Together with France, Germany is willing to do its part so that Europe becomes stronger."
Speaking hours before the expiry of a temporary exemption granted for the European Union from hefty U.S. tariffs on steel and aluminium, Scholz said there were no signs of a de-escalation in the trade dispute with the United States.
"Our response should be clear, strong and smart," Scholz said, adding that EU member states had become more willing to underline their sovereignty by acting in a determined way.
"NOTWORRIED" ON ITALY
Asked if he was concerned that a fresh election in Italy could turn into a referendum on its euro zone membership, Scholz said: "No, I'm not worried that this will happen."
Anti-European remarks by leading Italian politicians and almost three months of political turmoil in the euro zone's third-largest economy have spooked financial markets.
Scholz said Italy was a founding member of the EU and a majority of Italians were pro-European.
"Of course, we should not turn a blind eye to the things that are going on in the world," Scholz said, pointing to the challenges many western societies were currently facing with the double-crunch of globalisation and digitalisation.
"The nation state alone is not the right answer to this," Scholz said. That is why it's important to strengthen the European Union, for example by making progress on banking rules, he added.
The euro zone should therefore accelerate its efforts to strengthen the single currency bloc despite the political struggle in Italy, Scholz said.
Scholz told Reuters that France and Germany have made progress in talks about the harmonisation of their corporate tax systems, the future role of the euro zone's bailout fund ESM and the creation of a common backstop for struggling banks.
"The talks are proceeding well, I'm confident that we'll reach good results," Scholz said, ahead of highly anticipated Franco-German government consultations in mid-June.
Scholz said he was working on a revived proposal for the introduction of a financial transaction tax that would first be introduced by a few member states and eventually apply for the bloc as a whole.
The Social Democrat finance minister said the European Union would not follow U.S. steps for banking sector deregulation.
Asked if he would back Bundesbank President Jens Weidmann to become the head of the European Central Bank next year, Scholz said: "Now is not the time to discuss the succession of Mr. Draghi who is still in office and very active."
(Reporting by Michael Nienaber and Gernot Heller; Editing by Joseph Nasr and Catherine Evans)
euronews provides breaking news articles from reuters as a service to its readers, but does not edit the articles it publishes. Articles appear on euronews.com for a limited time.