Selloff rocks Italy, central bank raises alarm over political crisis
Comments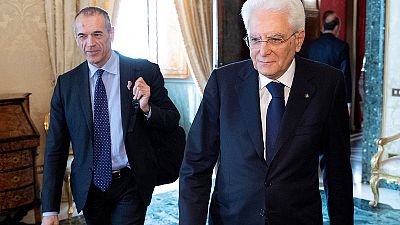 By Philip Pullella and Mark Bendeich
ROME (Reuters) – Italy's central bank warned on Tuesday the nation was only "a few short steps" from losing investors' confidence, as financial markets suffered the biggest selloff in years on fears that repeat elections would become a proxy vote on euro membership.
Bank of Italy Governor Ignazio Visco raised the alarm as investors dumped Italian bonds, causing the biggest one-day leap in short-term market interest rates in almost three decades, and as the head of state sought to install a stopgap government.
"We must never forget that we are only ever a few short steps away from the very serious risk of losing the irreplaceable asset of trust," Visco said.
President Sergio Mattarella has designated former International Monetary Fund official Carlo Cottarelli as prime minister to calm political and market turmoil, which Italy's two anti-establishment parties blame on the head of state.
Cottarelli, 64, is set to announce his cabinet on Tuesday after a meeting with the president at 1430 GMT, two days after Mattarella had vetoed the two parties' choice of a eurosceptic as economy minister in their would-be coalition government.
The 5-Star Movement and the far-right League, the biggest winners from inconclusive elections in March, abandoned plans to take power after the president's move, switching immediately to election mode, with 5-Star calling for him to be impeached.
The euro zone is watching the turmoil in its third-largest economy with concern: French President Emmanuel Macron defended what he called Mattarella's courage and German Chancellor Angela Merkel spoke of the need to obey rules governing the euro zone.
Investors believe Cottarelli will fail to pass the 2019 budget, triggering elections in the autumn when 5-Star and the League could win yet more seats. The campaign is likely to centre on the ideas of the parties' preferred economy minister, Paolo Savona, 81, who has argued for Italy to leave the euro.
A new poll by the SWG organisation showed support for the League had jumped to 27.5 percent, up about 10 points from the March 4 elections. With support for 5-Star falling about three points to 29.5 percent, the two combined would have a majority in parliament if they decide to join forces again.
Such worries sent Italian stocks to their lowest level since July 2017, dragged down by a selloff in the shares of banks, many of which have invested heavily in the Italian government debt that is now falling sharply in value.
Yields on Italy's two-year bonds, the most sensitive to political upsets, were set for their biggest one-day jump in 26 years.
The euro also hit multi-month lows, as credit rating agency Moody's signalled a possible downgrade for Italy if the next government failed to address its debt burden.
Investors had already worried about the proposed coalition's ambitious spending programme for a country with the third-highest public debt in the world — plans likely to bring it into conflict with the European Union.
MARKETEMOTIONS
Visco said any move to weaken the public finances could undermine confidence and years of valuable reforms. Italy's heavy debt burden could expose it to dangerous crises of confidence, he told the central bank's annual meeting.
He described the selloff as very serious but without sound basis: "There are no justifications, except for emotions, for what we're seeing today on the markets."
The number of investors expecting the euro zone to lose at least one member state in the coming months has increased due to the crisis in Italy, according to the Sentix research group's monthly "euro break-up" index, released on Tuesday.
Saxo Bank currency strategist John Hardy said European Central Bank President Mario Draghi might soon be required to intervene to calm markets, as he did during the euro zone debt crisis in 2012 when he promised to do "whatever it takes".
Euro zone money markets had been counting on the ECB raising interest rates from ultra-low levels mid-next year. But with economic growth slowing and Italy in turmoil, they now imply a 30 percent chance of a modest rise in June 2019.
The ECB's outgoing vice president, Vitor Constancio, stressed that any help for Italy, should it run into liquidity problems, must meet the bank's mandate and "certain conditions".
"Italy knows the rules. They might want to read them again," Constancio told Spiegel magazine in an interview.
Ten-year Italian bond yields have soared to over 3 percent in recent days but are well below the 6 percent reached when Draghi pledged to do "whatever it takes" to preserve the euro six years ago.
Banking sources in Rome said the only reassurance that would count for markets would be a strong statement of support for the euro from League boss Matteo Salvini.
Salvini, who has said Italy made a mistake joining the euro, pointed out on Tuesday that a coalition agreement drafted by the League and 5-Star did not include a plan to exit the euro.
"There's the desire to change the European rules and limits so that Italian citizens can be better off. This must not and cannot scare or intimidate anyone," he said.
PROTESTSPLANNED
Cottarelli is preparing a slimmed-down cabinet of experts with no direct links to political parties to steer Italy to elections. La Repubblica newspaper said on its website that economist and former Bocconi University rector Guido Tabellini was in pole position to be named economy minister.
The 5-Star leader, Luigi Di Maio, has called on parliament to impeach Mattarella for his decision to veto the two parties' choice of economy minister. The 5-Star and the League are planning big street protests against the president on Saturday.
Members of 5-Star took to the streets on Monday, holding anti-Mattarella placards such as "Sovereignty Belongs to the People", while the president's supporters went on Twitter with the hashtag "I stand with Mattarella".
(Additional reporting by Giselda Vagnoni, Steve Jewkes, Dhara Ranasinghe, Helen Reid, Sujata Rao, Marc Jones and Michael Nienaber; Editing by David Stamp and Peter Graff)
euronews provides breaking news articles from reuters as a service to its readers, but does not edit the articles it publishes. Articles appear on euronews.com for a limited time.