Monaco is one side of F1, GP Trust helps another
Comments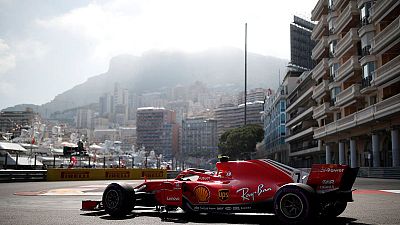 By Alan Baldwin
MONACO (Reuters) – The Monaco Grand Prix may give the impression that Formula One is all about parties and glamour, champagne and super-yachts, but there is another reality behind the fast cars and flaunted wealth.
More than 150 teams have come and gone since the championship started in 1950 and the years have not been kind to some who helped build the sport into today's billion dollar business.
Ageing mechanics, one-time team members and even a few retired drivers who made it through the most dangerous of decades are among those now struggling with life.
"I think everybody would think immediately 'Well, there's loads of money in Formula One'," former racer Martin Brundle told Reuters.
"'It's awash with cash and everybody makes a lot of money and so why would they need any kind of support mechanism?'" the Briton added.
"But of course Formula One is 68 years old now and a lot of the early pioneers and stalwarts didn't have the benefit of HR departments, insurance, pensions, healthcare plans and what have you."
Brundle, a familiar face and voice to fans worldwide as a commentator for Sky Sports television, is chairman of the Grand Prix Trust that was set up by triple world champion Jackie Stewart in the 1980s.
It ensures that those within the greater F1 community who may be out of sight are never out of mind.
The trust was originally intended for mechanics, with Stewart concerned there was no support structure for those who had helped him and others achieve their dreams.
"His view was there might be a big one — a car over the pit wall… who's looking after these people?" Brundle added. "Who's looking after the older guys that were beginning to struggle health-wise or whatever?
"There are some old drivers on our radar because a lot of those guys ended up with a divorce or two, and what seemed like a huge amount of money at the time suddenly wasn't.
"Some bad business decisions later on in life or whatever. It's surprising who needs help out there."
BURST OF ENERGY
The 'mechanics' bit has now been dropped and the trust aims to support anyone who has been involved in the sport for at least two years.
Some of those who once prepared the cars in glamour locations like Monaco may have been out of Formula One for decades.
"There's a lot of Kiwis and Aussies who probably came over and worked for Brabham and McLaren back then (in the 1960s)," Brundle said. "We have helped people all over the world."
Formula One's managing director for motorsport and former team boss Ross Brawn is a trustee, as is Williams co-founder Patrick Head, while Brundle has taken over from Stewart in keeping everything ticking over.
"Jackie created it… he asked me to take it over and I'll give it a good burst of energy, see how far we can get it and how much good we can do," Brundle said.
"It's very easy to assume that everybody in Formula One is unbelievably rich."
Brundle said a primary aim, rather than focusing on fundraising, was to spread the word to people who were eligible that the Trust was there and ready to help.
There is also a social side, with an annual lunch and get-togethers. Some 30 people a year are currently supported but Brundle said that number could grow.
Plans to introduce budget caps on teams, slimming some of them down from more than 1,000 staff at present, could be a future factor.
"It's clear to me that either through regulation or just financial necessity the teams can't go on growing in the way they are now. And there's going to be a correction, whether it's a budget cap or a team pulls out of F1," Brundle said.
"So we might well need to be there as a set of wicketkeeper's gloves to help people out."
(Reporting by Alan Baldwin; Editing by John O'Brien)
euronews provides breaking news articles from reuters as a service to its readers, but does not edit the articles it publishes. Articles appear on euronews.com for a limited time.