Factbox - How does Britain choose a new Bank of England governor?
Comments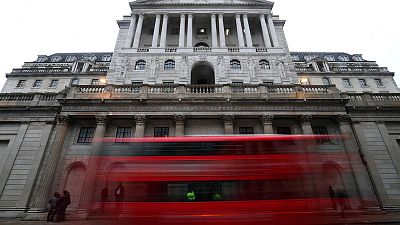 By David Milliken
LONDON (Reuters) – Mark Carney will step down as the Bank of England's governor at the end of June 2019, and speculation is already rife in British financial circles about who will succeed him.
A decision on Carney's successor is almost certainly months away, and finance minister Philip Hammond has said he will cast a global net to seek out the BoE's 121st governor.
But the formal process is likely to be similar to that seen in 2012 – even if Carney himself sidestepped much of the application procedure by already serving as a central bank governor.
WHOAPPOINTSTHEGOVERNOR OF THEBANK OF ENGLAND?
Legally, the appointment is made by Queen Elizabeth on advice from the prime minister, Theresa May. In practice, it will be Hammond who makes the key recommendation, based in part on advice from his officials.
WHEN IS THEJOBADVERTISED?
A formal job advertisement is not expected to appear until early September if the finance ministry follows the same process as in 2012.
One barrier to advertising the role immediately is that the government has not yet named a new chair of the Bank of England's Court, or supervisory board, who helps interview candidates for governor.
Adverts typically appear on a government website and in The Economist magazine. In 2012, it said a successful candidate would need experience at a central bank, the top level of a major bank or other financial institution.
Candidates also needed "an advanced understanding of financial markets and good economic knowledge", as well as strong communication skills and undisputed integrity. The application deadline fell four weeks later.
HOW DO INTERVIEWSWORK?
Based on previous practice, first-round interviews will be held in October by a panel led by the Treasury's top civil servant, Tom Scholar, his deputy, Charles Roxburgh, a BoE representative – probably the new Chair of Court – and possibly an external representative or another senior civil servant.
Hammond will then personally interview the candidates recommended by the finance ministry panel. In 2012, nine candidates underwent first-round interviews and George Osborne, Hammond's predecessor, interviewed six of them.
WHEN IS THEDECISIONANNOUNCED?
The appointments of both Carney and his predecessor, Mervyn King, were announced in late November. Hammond's predecessor, George Osborne, made a stand-alone announcement, King's appointment was announced alongside a twice-yearly fiscal statement by then-finance minister Gordon Brown.
WHATHAPPENSNEXT?
The Treasury Select Committee of Britain's lower house of parliament will want to hold a pre-appointment hearing with the person chosen to be the new governor, probably in early 2019.
The committee cannot veto the appointment, but if it issues a severe criticism – as it did over Deputy Governor Charlotte Hogg's failure to declare conflicts of interest in 2017 – then a candidate would face pressure to withdraw.
IS THISALLTHERE IS TO IT?
Not quite. Some candidates might get special treatment, as Carney did. The top Treasury civil servant in 2012, Nick Macpherson, began making informal, private approaches to him and other potential candidates from February that year.
Carney did not apply for the job by the official deadline, and only agreed to an interview after Osborne met him at a meeting of global finance officials in Mexico in November 2012. Osborne agreed that Carney could serve just five years of an eight-year term, among other things.
Carney also received a London housing allowance of 250,000 pounds on top of his standard governor's salary, which took his total annual cash remuneration to 874,000 pounds – three times what King received.
Carney skipped the standard application process and benefited from a private process Macpherson devised "for serving central bank governors". That allowed him to submit an application the same day Osborne formally interviewed him at a private location in London, on Sunday, Nov. 18.
(Reporting by David Milliken, editing by Larry King)
euronews provides breaking news articles from reuters as a service to its readers, but does not edit the articles it publishes. Articles appear on euronews.com for a limited time.