Air France-KLM shares fall after CEO announces his resignation
Comments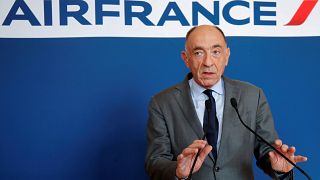 Air-France-KLM shares suffered their biggest one-day fall in a decade on Monday after its Chief Executive said he would resign following the rejection of a pay deal by the airline's staff.
At one point in early trading the shares fell over 14 percent. They are down almost 50 percent since the start of 2018.
CEO Jean-Marc Janaillac's attempt to cut costs at the carrier to keep up with competition from budget airlines and Gulf rivals ran into strong union resistance. In a ballot, 55 percent of employees who voted rejected an offer of a seven percent pay rise over four years.
Staff are demanding a 5.1 percent increase in 2018.
On Monday Air France said 15 percent of its flights would be cancelled as pilots and cabin crew went on strike for the fourteenth time since February.
"Air France is fragile, but all the airlines are fragile," said air industry expert Gérard Feldzer. "Because the margin is very very low and a conflict like this, means losing customers. To recover customers..well that is very complicated"
It's estimated that the long-running dispute has so far cost the airline around 300 million euros.
The government said the French state, the largest shareholder with a 14 percent stake, will not bail out the airline.
France's economy minister, Bruno Le Maire, said Sunday that Air France employees must resume dialogue with bosses and restart efforts to improve the company's competitiveness, otherwise, the airline will disappear.