Anteater in prize-winning nature photo 'was stuffed'
Comments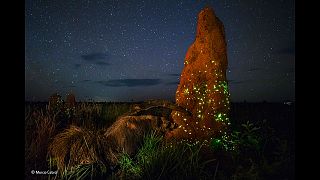 On the face of it this nocturnal picture of an anteater approaching a glowing termite mound was a worthy winner of a prestigious nature photography prize.
Brazilian photographer Marcio Cabral's snap won a category at the 2017 Wildlife Photographer of the Year contest.
Except there's a problem, according to the organisers, London's Natural History Museum.
They say after a thorough investigation experts have concluded it's likely the anteater was a stuffed, taxidermy specimen.
Cabral insists it is not a fake.
The blurb published initially to accompany his picture read: "For three seasons, Marcio had camped out in Brazil's Cerrado region, on the vast treeless savannah of Emas national park, waiting to capture the termite mounds' light display.
"Click beetle larvae living in the outer layers of the mounds flash their bioluminescent 'headlights' to lure in prey – the flying termites.
"Out of the darkness ambled a giant anteater, oblivious of Marcio in his hide, and began to attack the tall, concrete-mud mound with its powerful claws to reach the termites deep inside."
The museum said it was contacted in March by an anonymous source questioning the authenticity of the image.
It launched a probe and enlisted a team of five experts, who compared Cabral's image with a picture of a stuffed anteater.
"The five scientists, working independently of each other, all concluded there are elements of the animal's posture, morphology, raised tufts of fur and patterns on the neck and head that are too similar for the images to show two different animals. The experts would have expected some variation between two individuals of the same species," the museum said in a statement.
Cabral co-operated with the investigation and supplied images taken before and after the prize-winning one.
But, added the museum, none of them contained the anteater.
Roz Kidman Cox, a member of the 2017 judging panel, said: "I find it disheartening and surprising that a photographer would go to such lengths to deceive the competition and its worldwide following.
"The competition places great store on honesty and integrity, and such a breach of the rules is disrespectful to the wildlife photography community, which is at the heart of the competition.
"This disqualification should remind entrants that any transgression of the rules and spirit of the competition will eventually be found out."
The museum said Cabral is no longer considered the winner of the 'animals in their environment category' in 2017 and has been banned from entering the competition in the future.