"FOLLOW UP SIBERIA!" project launches in Moscow: watch live
Comments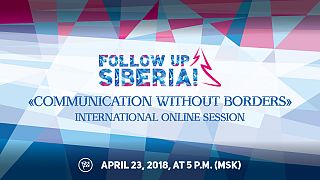 Watch the launch of a brand new cultural project "FOLLOW UP SIBERIA!", live on this page on April 23rd at 17:00 MSK (16:00 CEST)
The live session, taking place at the "Rossiya Segodnya", marks the start of a new international cultural programme, a joint venture from Nornickel and Euronews. The year-long project provides an opportunity for people from all around the world to visit Siberia, connecting with each other and meeting local people.
The participants will explore the modern infrastructure and sports facilities of Siberian cities as well as taking part in various cultural activities and events, ranging from traditional initiation ceremonies and polar exploration to visits of ancient historical sights.
One of the main aims of "FOLLOW UP SIBERIA!" is to highlight that there are no borders between people, regardless of background or culture. The unique project will combine cross-cultural interaction and sports with authentic local cultural and historical traditions.
The mission of "FOLLOW UP SIBERIA!" is to draw attention to the remote areas of the planet and introduce them to the world.
The live discussion on April 23rd will cover the following topics:
promotion and development of territories through the organisation of major sporting events

the relevance of digital projects and new media to promoting territories

youth participation in the volunteer movement
Speakers include:
Larisa Zelkova, Senior VP of Human Resources, Social Policy and Public Relations, Member of the Management Board at Nornickel,

Elena Bezdenezhnykh, VP/State Secretary, Member of the Expert Council at Nornickel,

Maksim Urazov, Director General of the 29th Winter Universiade in Krasnoyarsk (2019),

Oleg Matytsin, President of the International University Sports Federation (FISU),

Niaz Samadizadeh, VP Content Strategy at Euronews,

Lev Belousov, Rector of the Russian International Olympic University;

Ilya Averbukh, Honored Master of Sports of Russia in figure skating, silver medalist at the 2002 Olympic Games in Salt Lake City.
Please feel free to send your questions for the speakers to info@followupsiberia.com.