Hungary's crunch election: five things we learned
Comments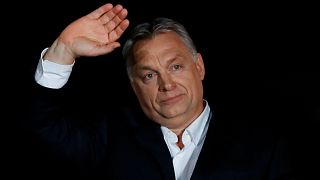 Viktor Orban will rule Hungary for another four years
Hungary's ruling coalition won a 66.83% share of parliamentary seats, pushing it over the important two-thirds majority mark.
The partnership comprises of Hungary Prime Minister Viktor Orban's Fidesz Party and KDNP (Christian Democrats).
It means Orban, Europe's leading populist, will have a fourth term as the head of Hungary's government.
The performance of Fidesz-KDNP outshone its rivals with the far-right Jobbik party coming second with 13% of seats.
The Hungarian Socialist Party, which evolved from the communist party that ruled from 1956 to 1989, came third with 10% of parliamentary seats.
Hungary's voters were motivated
Turnout was at one of its highest levels since the fall of communism.
While no final figure was available, turnout stood at 68% well before all the votes had been counted, according to a Fidesz parliamentary spokesman.
That raised the prospect of it beating 2002's post-communism record of 70.5%, the highest number since 1990.
That year saw Viktor Orban unseated from his first stint as Hungary's prime minister.
But those hoping for a repeat performance were left disappointed, with the high turnout a result of Orban's successful campaigning, rather than a resurgent opposition.
The enthusiasm to get to the voting booths on Sunday caused delays to the first preliminary results being published.
They came out fours hours later than expected.
While polling stations officially close at 19h CET, if anyone is in the queue at this time they are still allowed to vote.
It meant there were still thousands of people queuing to vote in Budapest well beyond closing time.
Chickens are more popular than left-wingers
One of the curious elements to the election was the presence on the ballot paper of the Hungarian Two-tailed Dog Party.
The satirical outfit put forward a candidate dressed as a chicken to try and argue people have lost faith in human politicians.
The party won 1.6% of the vote, more than double that of left-wing, pro-EU party Together, who polled around 0.63%.
This is our pre-election interview with József Tichy-Rács, candidate for the Hungarian Two-tailed Dog Party.
In another unexpected result, tax advisor turned German minority leader Imre Ritter made history on Sunday when he secured one seat. The last time the German minority had an MP in Hungarian Parliament was in 1933, according to Ritter, with the MNOÖ party.
Hungary's political landscape is set for change
There were at least two immediate casualties after the first results were announced.
Gabor Vona, leader of the far-right Jobbik party, honoured a vow he made before the election to offer his resignation if his party did not win.
The president of Hungary's socialists, Gyula Molnar, also tendered his resignation after a crushing defeat.
Orban's authority to govern has also been bolstered.
His coalition is more popular than ever after winning a similar majority to 2014 but on a high turnout.
If the final result gives him a majority of more than two-thirds he will be allowed to pass major changes to Hungary's constitution.
Brussels is unlikely to celebrate
March saw a surge of anti-EU populism in Italy; now in April is a landslide victory for Europe's leading populist.
Orban's victory is unlikely to be celebrated in Brussels, which may have thought the post-Brexit vote tide was changing with Emmanuel Macron's success in France.
Anti-EU figures, including France's far-right leader Marine Le Pen, have been celebrating Orban's victory as another defeat for European federalists.
And Orban's victory speech appeared to take aim at the EU, suggesting there is unlikely to be any let-up in hostility towards Brussels.
"We now have a major battle behind us, this has been a decisive win," he said. "We have created another opportunity and in the future we will be able to defend the interests of our country."
Pro-EU figures have already called for Hungary to address issues like press freedom if it wants to keep receiving financial aid from European institutions.
Now experts are calling for the EU to bring the issue to a head by warning Orban to change or face the consequences.
How we covered Hungary's election night