Couple sentenced to death for murder of Filipina maid
Comments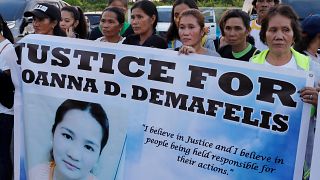 A Kuwaiti court sentenced a Lebanese man and his wife to death after they were convicted in absentia of killing 29-year-old Joanna Demafelis. Her death triggered a diplomatic row between the Philippines and the Gulf Arab state in February.
Kuwaiti newspaper al-Qabas said a criminal court issued its verdict after the first hearing, convicting the pair of "killing the Filipina worker and putting her body in the freezer."
Demafelis' body was found in the couple's abandoned apartment more than a year after she went missing.
Lebanese media reported last month that the worker's employer was in custody in connection with the case and that authorities were considering extraditing him to Kuwait.
The Philippines government said on Monday it had been informed of the sentence.  
More than 300 Filipino domestic workers left Kuwait for the Philippines in February, availing of their government's offer of a free flight home. They join an estimated 2,000 workers who have returned to the southeast Asian nation since January 29, according to the Overseas Workers Welfare Administration.
Diplomatic row
In February, the Philippines issued a deployment ban of overseas workers to Kuwait where over 250,000 Filipinos are working. President Rodrigo Duterte said abuse went unchecked and had driven several domestic workers to suicide.
Duterte added he would extend the ban to any other country where abuses of Filipino workers were registered.
Many who returned were Filipinos who took Kuwait's amnesty programme for undocumented and overstaying workers.
Philippine Secretary of Foreign Affairs Alan Cayetano said Kuwait had vowed to resolve the Filipino maid's death and agreed to discuss measures for Filipinos to complain about abuse and labour concerns to the government.
Kuwait extended an invitation to Duterte on Monday for an official visit to mend diplomatic ties with the southeast Asian country, said the state's news agency KUNA.
Over two million Filipinos are working in Gulf states including Qatar, Bahrain, United Arab Emirates and Saudi Arabia, many as household workers.