Poland set to build new hub airport
Comments
By Annabelle Chapman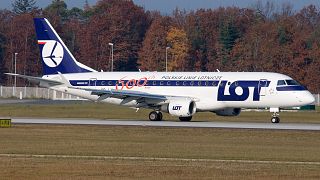 With 15.75 million passengers in 2017, Warsaw's Chopin Airport is the busiest in central and eastern Europe. Last year, it overtook Prague's Vaclav Havel Airport, which served 15.4 million passengers, according to Airports Council International. As traffic at Chopin Airport continues to grow, it will meet full capacity in a few years' time. Amid these concerns, the government plans to replace it with a new, central airport. The Central Transport Hub — as it is called — has since become a flagship project for the governing Law and Justice party, known as PiS in Polish.
Named after the Solidarity trade union that helped topple communism in Poland, the new airport will be built 40km west of Warsaw, in the municipality of Baranów in central Poland. Built on around 3000 hectares of land, it scheduled to open in 2027, with an initial capacity of 45 million passengers a year, later rising to 100 million.
Highlighting Poland's location between east and west, the government wants it to become one of the largest transfer airports in Europe. "Our country is located at the intersection of routes between major metropolises such as Los Angeles – Tel Aviv, Vienna – Tokyo, Shanghai – Paris, and New York – Tehran," states a government resolution adopted in November 2017. Without the airport, Poland will struggle to compete with western European countries on the aviation market and "be condemned to the second league", it adds.
The plans fit the strategy of LOT, Poland's state-owned airline. Since being rescued from bankruptcy in 2012 by public aid, the airline has been growing. Last year, it launched several new long-haul flights, including to Los Angeles and Astana. Twelve new connections from Warsaw are planned for 2018, including to Singapore.
The new airport would be part of a new transport hub, with rapid rail connections to the capital and other cities. Rather optimistically, the government says it could be reached by train from the country's main urban agglomerations in 2.5 hours, later decreasing to 2 hours. A new town by the airport, with business parks and a congress centre, is planned, too.
Construction is expected to cost 30-35 billion złoty (€7.2-8.4 billion), including road and rail infrastructure. So far, the government has been vague about where the money will come from. Mikołaj Wild, the government's plenipotentiary for the new airport, has suggested that non-airport components could be financed from EU funds.
Yet critics have warned that the new airport, which is supposed to be profitable, could become a burden for the state budget.
"In my view, the existing cost estimations are understated and the real cost will be higher," says Jacek Krawczyk, president of the Employers' Group at the European Economic and Social Committee, and a former chairman of LOT's supervisory board. "Moreover, it is less about financing the construction and more about ensuring that the airport is profitable in the future."
The airport could also prove detrimental for the regional airports that have grown since Poland joined the EU in 2004. "The idea of a central airport contradicts the decentralised model for aviation successfully developed in Poland," adds Krawczyk, warning that it could "cannibalise" traffic from regional airports, putting their future at risk.
Yet despite these concerns, the government is pushing on. A special law on preparing for and building the central airport will be adopted this spring, according to Wild. "The Central Transport Hub is a huge programme, so we need to follow the adage 'How does one eat an elephant? Bit by bit'," he told the Polish Press Agency in an interview published last week.