UK economy: moderate growth but inflation remains high
Comments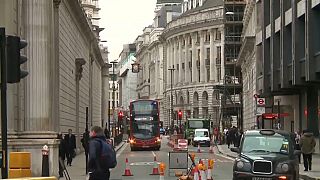 UK economic growth sped up moderately in the July-September period to 0.4 percent from 0.3 percent in the second quarter, according to the Office for National Statistics.
This translates into an annual 1.5 percent growth in the third quarter, the joint weakest growth in more than five years.
Britain's economy again relied heavily on spending by squeezed households for growth in the three months to September, as businesses invested only cautiously while they await clarity on Brexit, official data showed.
Spending though is getting harder, given the inflation was at its highest in over 5 years in October.
"Right now, the British people are already paying money. Every time they go shopping, because prices have gone up, they actually can buy less with their money." said
Dennis Novy, research fellow at the Center for Economic Performance, London School of Economics and Political Science.
"And that is the cost. It's very evenly distributed, it affects pretty much every single person in the entire country."
"But it actually adds up to a lot of money, so the British people are already paying for Brexit, even though Brexit hasn't even happened yet."
The UK is on course for its longest fall in living standards since records began over 60 years ago, the Resolution Foundation think tank said.
It also calculated wages will not return to their pre-financial crisis levels of 2007 until at least 2025 once inflation is taken into account.