Toyota to make fast charging long range electric car
Comments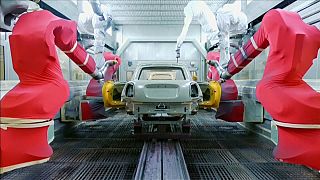 Toyota is reportedly working on an electric car powered by a new type of battery that significantly increases driving range and reduces charging time to just a few minutes. Thus overcoming one of the largest obstacles still facing the fast developing market. Not on sale until 2022, eyes will be the competition for their next moves.
Toyota Electric Car Will Use Solid-State Batteries For Long Range & Quicker Charging https://t.co/AizgScV8nhpic.twitter.com/YdEdLW2XRf

— CleanTechnica (@cleantechnica) July 25, 2017
Craig Erlam, a markets analyst can see a huge change coming across the whole industry,
"There's going to be a number of stronger competition from other brands over the course of the next five to 10 years. And I think what Toyota is doing is trying to get itself back in the game and even possibly a step ahead."
We're going electric. Who's in? We're excited to let you know we're going to be building a fully electric #MINI 3-door Hatch. Stay tuned. pic.twitter.com/6aw0dgU293

—

MINI

UK (@MINIUK) July 25, 2017
And they'll be hoping that that step is large enough as this news comes on the same day that BMW announced that it has chosen its plant in Oxford, England as the location to produce an electric version of it's popular small car the Mini from 2019.
BREAKING: Mercedes to quit #DTM after 2018, confirms #FormulaE entry in 2019/20:https://t.co/tmr1xj4hRupic.twitter.com/VbvfQmStb6

— Motorsport.com (@Motorsport) July 24, 2017
And it's not just more electric cars we'll be seeing on the road in the future. A whole new era of motorsport on the track has got a boost this week with successful formula one entrants, Mercedes, announcing that they will be entering the electric Formula E series in the 2019 / 20 season.