Tesla's Model 3: What to know about the affordable car
Comments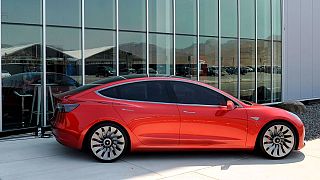 Tesla's Model 3 officially began rolling off the production line Friday, July 7. The all-electric sedan is the company's ambitious foray into the mainstream car market and has been highly-anticipated with over 300,000 preorders just days after it's unveiling in March of last year. With the first 30 hitting the road after a celebration for the first customers at the end of the month, here is everything you should know about the Tesla Model 3.
How much will it cost?
The base model will be about €30,000, with Tesla Co-founder and CEO Elon Musk saying at the unveiling, "even with no features, it's still a really good car".
How far can it go?
On a single charge, it can travel at least 346 kilometres.
How fast can it go?
"At Tesla, we don't make slow cars," said Musk. The Model 3 can go 0-100 km/h in under six seconds.
First drive of a release candidate version of Model 3 pic.twitter.com/zcs6j1YRa4

— Elon Musk (@elonmusk) March 24, 2017
Is it safe?
Musk says it has received the highest possible safety ratings in all categories.
Does it have autopilot capabilities?
Self-driving hardware like cameras, sensors and a supercomputer come standard, but only safety features like obstacle and collision avoidance will come free. You'll have to pay a fee if you want 'convenience' features like steering, change lanes and self-parking.
Is supercharging standard?
Model 3 owners will be able to use Tesla's network of superchargers, which can provide up to 273 km of range in as little as 30 minutes, but it will be on a pay-per-use basis. While they won't have the luxury of free supercharging like owners of Tesla's higher end models, the company assures that it will still be substantially less than a traditional petrol fill-up.
Does it have the bioweapon defence system?
When Tesla unveiled their SUV the model X, they made headlines for an optional feature that filters air coming into the car and periodically scrubbing it while inside so effectively that, as it says on their website, 'you can literally survive a military grade bio-attack by sitting in your car'. No word on if it will be available for the Model 3 but it could be a major selling point to places with low air quality like China, which will be a key market if Tesla is to achieve their goal of becoming a mainstream automaker.
How customisable is it?
Tesla plans to offer fewer than 100 configurations for the Model 3, far less than the 1,500 available for the Model S. Uniformity will help them mass-produce at a faster rate, but buyers will still have the options like bigger or dual batteries for faster speeds and longer distances, full self-driving capabilities, coil suspension, optional glass roof, multiple wheel options and many others yet to be confirmed by Tesla.
When can I get one?
"I'm guessing if you put down a deposit down now, it's probably the end of next year before you get it," Musk said at the company's annual shareholders conference in June. Tesla hasn't given a pre-order total since 21 April 2016 when Musk said they had almost 400,000. They only produced 84,000 cars last year and with massive infrastructure expansion needed to meet their goal of making 500,000 cars per year starting next year, they will be under considerable pressure to meet demand.
Looks like we can reach 20,000 Model 3 cars per month in Dec

— Elon Musk (@elonmusk) July 3, 2017