History and the future: Europe's most innovative university in pictures
Comments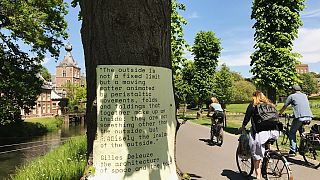 Recently Reuters called KU Leuven the most innovative university in Europe. It's a Dutch-speaking school based in Belgium's Flanders region. Founded in 1425 by Pope Martin V, it's the world oldest Catholic university. KU's modern mission is comprehensive and advanced scientific research. According to Reuters it maintains one of the largest independent research and development organizations on the planet – in fiscal 2014, research spending exceeded 426 million euros.
Euronews took a tour around some of the university premises
The main university campus is situated in Leuven, not far from the Belgian capital Brussels. It feels like every other building in town belongs to the institution. Among one of the most recognisable places in Leuven is the university library.
Some of the faculties are located in 12th century Kasteel van Arenberg (the Castle of Arenberg). Here you can see students cycling among the older and newer buildings of the campus, greenhouses and solar panels or studying in its modern library or queuing for an ice cream and chilling in the park. Have a look through our gallery.