Flying cars now available for pre-order
Comments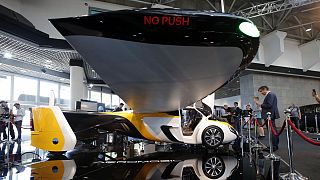 Some of the world's most lavish supercars took a backseat to futuristic flying cars at the Top Marques Monaco luxury car show.
Once just a fixation of science fiction and imagination, the prospect of flying cars now appears to be coming in the very near future, with more than a dozen companies and startups in different stages of flying vehicle development.
Companies currently developing flying vehicle technology
Terrafugia
Kitty Hawk
Airbus Group
Moller International
Xplorair

PAL

-V
Joby Aviation
EHang
Volocopter
Uber
Haynes Aero
Samson Motorworks
AeroMobil
Parajet
Lilium
The two makers on display in Monaco have already begun taking pre-orders.
The vehicle in the video above is from Aeromobil, a company based in Bratislava, Slovakia. It features a hybrid propulsion system and can go from driving to flying mode in under three minutes.
Reaching a top ground speed of 160 km/h and air speed of 360 km/h, it has a maximum range on the road of 700 kilometres and 750 kilometres in the air.
Aeromobil is accepting up to 500 pre-orders ranging from 1.2 million euros to 1.5 million euros based on customer specifications.
Also on display was the Pal-V Liberty, from a Dutch engineering firm based near Breda. The Liberty is a three-wheeled gyrocoptor capable of cruising speeds of 160 km/h on land and in air. Its 27-gallon petrol tank provides a 350-kilometre flight range or approximately 1,200 kilometres on the road.
It is currently available for pre-order costing 300,000 to 500,000 euros.
Large companies are also preparing for a world populated by flying cars. Airbus and its partner Italdesign unveiled their proposal for an autonomous vehicle that would function on the ground and air at the Geneva International Motor Show in March.
Most recently, Kitty Hawk, a Silicon Valley start-up backed by Google co-founder Larry Page, unveiled its prototype version of a 'flying car', a light, open-topped vehicle similar to a large drone.
There are still a lot of technical and regulatory hurdles to overcome before flying cars become part of everyday life. Both cars at Top Marques require the operator to have a pilots licence. This involves long and expensive training and rigorous tests and some have already expressed concerns over drones encroaching on aviation airspace.
Even with so many unanswered questions, many are preparing for a future inundated with flying vehicles. The government of Dubai says it is planning to operate autonomous flying taxis starting in July in partnership with the Chinese firm, EHang. While ride-sharing company Uber is holding a three-day conference in Dallas from April 25-27 to unveil its vision for a futuristic flying taxi service.