Meet the newest Italian police member: a Lamborghini Huracan
Comments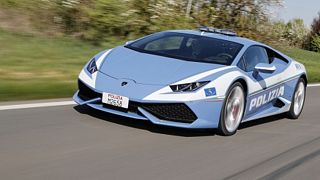 At a ceremony on Thursday, March 30th in Rome, the Italian National Police received the keys to their newest crime-fighting machine, a brand-new, Lamborghini Huracan.
Lo scoprimento della nuova Huracàne Lamborghini consegnata all'equipaggio della #poliziastradale dal ministro dell'Interno Minniti pic.twitter.com/VuhB4tt5ET

— Polizia di Stato (@poliziadistato) March 30, 2017
It's actually not the first Huracan in the Italian fleet, they also received one in 2015. However, their newest supercar comes equipped with gadgets specialised to police needs like an on-board tablet and computer. In addition to equipment like a defibrillator, portable fire extinguisher and a gun holster.
The luggage compartment under the hood has also been customised with a refrigeration system for the urgent transport of blood supplies to accident sites and organs for transplants.
It still has standard features like an 610-horsepower V10 engine, capable of going 0-100 km/ h in just 3.3 seconds. It also sports a four-wheel drive and a hybrid chassis consisting of carbon fibre and aluminum.
Tra le dotazioni tecnologiche della Huracàn Lamborghini per controllo su strada anche attrezzature per trasporto urgente organi e soccorso pic.twitter.com/1OPIy7BNV9

— Polizia di Stato (@poliziadistato) March 30, 2017
Painted in traditional police blue, with white accents to accentuate the car's dynamic design, the Huracan's primary use will be transporting live-saving medical supplies.
With a top speed of 325 km/h, it will be patrolling the highways around Bologna to catch excessive speeders when not making medical deliveries.
"We are very proud to continue our collaboration with the police and to be able to contribute to bringing the forces of law and order closer to the people," Lamborghini's CEO, Stefano Domenicali, said as the keys to the new car were handed over to Interior Minister Marco Minniti.
The two Huracans replace a pair of Gallardos donated to the police in 2009, one of which was destroyed a year later in an accident. The remaining Gallardo will be moved from the Lamborghini Museum in Sant'Agata to the Police Auto Museum in Rome.