Watch: Siberian tigers take on a drone in China
Comments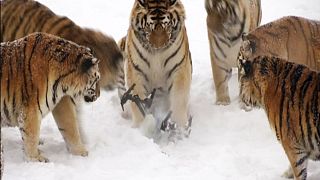 A pack of Siberian tigers in an enclosure in northeast China have engaged in a game of chase with a drone.
The normally ferocious beasts looked like a group of cubs as they hunted the machine until a three-year-old cub gave the final blow, sending the drone spinning to the ground.
Staff at the enclosure came up with the exercise in order to keep the animals fit during winter.
The footage appears to have been filmed at a well known tiger farm in Heilongjiang Province