EU tells Trump to mind his own business
Comments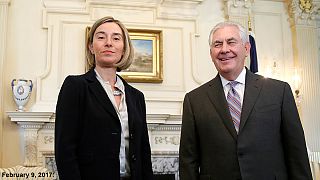 The European Union has urged the United States to respect the principle of "non-interference" in each other's affairs.
"We do not interfere in US politics […] And Europeans expect that America does not interfere in European politics," Federica Mogherini, the EU's top diplomat, told reporters in Washington on Friday.
She later repeated her remarks at the Atlantic Council, a think tank that promotes strong transatlantic ties.
The two-day trip was Mogherini's first visit to the US capital since Donald Trump became president three weeks ago.
Her remarks followed comments by Theodore Roosevelt Malloch, Trump's frontrunner to become ambassador to the EU, that the bloc is anti-American and that he would prefer for the US to trade bilaterally with European countries.
Malloch echoed statements by Trump in the past who had repeatedly praised Brexit and efforts by populists in other EU countries to leave the European Union.
Mogherini said the new administration had not decided on a new US ambassador to the EU yet.
While in Washington, Mogherini had talks with senior members of the Trump administration, including Trump's son-in-law Jared Kushner and Secretary of State Rex Tillerson.
"We had very good meetings about common interests and common priorities", the former Italian Foreign Minister said. "I have the impression that policies in Washington at this moment are still in the making."
Mogherini underlined the intention of both sides to work together closely, but she also acknowledged disagreements on topics like multilateralism, free trade and "maybe some human rights issues".
Mogherini also said she was reassured in her talks with the Trump administration that the US was committed to the full implementation of the Iran nuclear deal.
"I heard the intention to make sure that the deal will be a hundred percent implemented", she said.