Japan to accept only 300 refugees over 5 years
Comments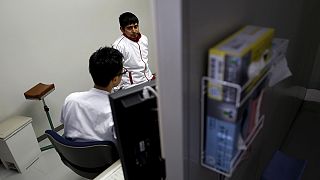 Japan has decided to admit 300 Syrian refugees and their families over the next 5 years. These families will also receive a living allowance.
In 2016 10,901 people sought asylum in Japan. Only 28 were accepted. The previous year, although the amount of requests was lower, even fewer (27) refugees were admitted.
This is not a new issue. In 2015 Prime Minister Abe said the non-acceptance of refugees is an "issue of demography. There are many things we should do (with our own population) before accepting immigrants".
But Human Rights Watch say this should be no excuse. Phil Robertson, deputy director of HRW's Asia division said that both Japan are South Korea are "relatively wealthy societies that could afford to provide resettlement assistance to refugees".
However, according to the Japan Association for Refugees, some cases can take as long as 9 years to be finalised.
Immigration remains controversial in Japan. Many Japanese citizens pride themselves on their nation's cultural and ethnic homogeneity, even though the workforce is shrinking as the population ages.
Most asylum seekers that are granted permission to stay in Japan are from Indonesia, followed by those from Nepal, the Philippines and Turkey.
Japan is a major donor to international aid, but remains reluctant to accept refugees, asylum seekers, or migrant workers. While only accepting 28 refugees, Japan donated €154 billion to the United Nations High Commission for Refugees- making it the 4th largest donor.
In contrast, Germany received 745,545 asylum applications in 2016, and Berlin alone accepted over 250,000 requests.