German GDP growth at five year high
Comments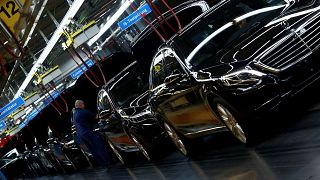 More people in the shops, full employment and low interest rates helped Germany's economy to its strongest growth in five years in 2016. There was a 2.0 percent increase in consumer spending.
Spending on refugees as well as increased pension entitlements meant government expenditure increased by 4.2 percent, adding 0.8 percentage points to the overall growth rate.
"This was the strongest increase in state consumption since 1992 following German reunification," the head of the Federal Statistics Office Dieter Sarreither said.
The German statistics office estimates growth in the eurozone's largest economy was around 0.5 percent in the fourth quarter of 2016 and 1.9 percent for all of last year.
"The German economy in 2016 once again defied an entire series of downside risks, thanks to strong domestic demand," said ING economist Carsten Brzeski, adding that Germany's biggest risk now was complacency.
For 2017 rising inflation from higher oil prices is expected to reduce purchasing power, restraining growth from consumption.
Government spending on settling and training refugees could also taper off with fewer arrivals.
Economists expect the growth drivers to change with a moderate shift from domestic demand to stronger export activity.
However possible protectionist trade policy by the Trump administration in the US and state interference in China could hurt German exporters.
Euro Hits One-Month High as German GDP, French Inflation Figures Impress – https://t.co/P3K2zXwijFhttps://t.co/Jiq8DWlFpl

— Monetary system (@Monetarysystem1) January 12, 2017