Eurozone manufacturing enjoys year end boost
Comments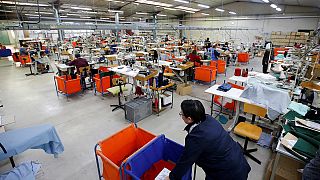 The new year has started with fresh signs that the eurozone's economic recovery is continuing.
Eurozone manufacturers are entering 2017 on a strong footing, having ended 2016 with a surge in production

Chief business economist, IHS Markit
Manufacturing in December expanded at the fastest pace in more than five and a half years.
In addition orders rose, even as companies raised their prices because raw materials cost more.
Surveys of companies' purchasing managers showed growth was strongest in the Netherlands and Austria.
German manufacturing expansion reached its highest in almost three years, driven by rising demand from Asia and the United States.
France hit a five and a half year high, and Italian manufacturing activity grew at its fastest rate since June.
In Greece the contraction was at a slower rate.
"Euro zone manufacturers are entering 2017 on a strong footing, having ended 2016 with a surge in production," said Chris Williamson, chief business economist at IHS Markit which carried out the surveys.
"To put the PMI data into perspective, the five-and-a-half-year high reached in December is broadly consistent with factory output growing at an impressive annual rate of approximately four percent."
Firms raised prices at the fastest pace in over five years linked to the weaker euro and more expensive commodities.
"Policymakers will be doubly pleased to see the manufacturing sector's improved outlook being accompanied by rising price pressures," IHS Markit's Williamson said.
The European Central Bank would like to see inflation reach almost two percent. In a surprise move last month, the ECB cut asset purchases but promised protracted stimulus to aid a still-fragile recovery and bolster weak inflation.
#ECB will note that the PMI shows #Eurozone#manufacturing#prices charged picked up markedly in Dec to highest level since July 2011

— Howard Archer (@HowardArcherUK) January 2, 2017
The stronger manufacturing news pushed up stock market indexes across the region on the first trading day of 2017, but the euro fell in value.