5-year old born without fingers given Batman-styled prosthetic hand
Comments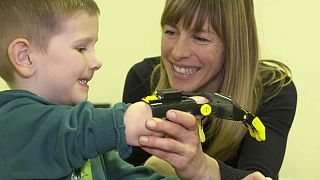 Soma is a 5-year old boy from Hungary, born without fingers on his right hand.
Frustrated, as any 5-year old would be, that he couldn't always play with his favourite toys as he wanted, Soma asked for help from Batman this Christmas.
E-Nable , a network of volunteers who work with 3D printing technology to provide prosthetics for children like Soma, heard about his story and decided to help.
They even styled the prosthesis in Soma's favourite superhero colours, and added a Batman badge for good measure.
Krisztian Sztojanov of E-Nable Hungary told euronews that they've since met with Soma to discover how he uses his new hand, and how it helps him. "There's an uplifting feeling to see that we've added something special to a kid's life", he added.
With Christmas fast approaching, Soma will be able to open his presents with both hands this year, and is looking forward to discovering where his Batman's hand can take him in 2017.